To tie in with the release of her 4th and final volume of Sauret's 24 Études-Caprices, the violinist wraps up her blog series on the French violinist and composer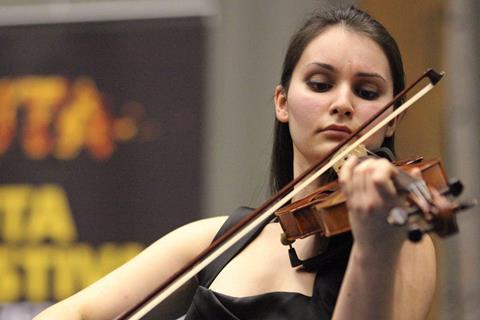 'Clearness of tone is the essential condition of the art of violin-playing … The bowings are of the greatest importance as they have a vital influence upon the volume of tone and the musical expression … Upon the manner of holding and directing [the bow] across the strings depend power, sweetness and intensity of the tone … The bow must be directed across the strings up and down with perfect uniformity of pressure, with security, suppleness, precision and solidity, but always with grace and elegance.'
- Émile Sauret – Gradus Ad Parnassum du Violiniste, Op.36 (Leipzig, 1896)
The language Sauret uses in his Gradus Ad Parnassum (Leipzig, 1896) to describe the significance of the use of the bow in impacting the expressive and tonal range on the violin is in turn reflected in the opening practical exercises of the same publication.
The first ten exercises — on the open D string only — link judicious management of the bow, its control, pressure, speed and division with dynamics, hairpins and accents. The level, intensity and range of dynamics on the violin is thus evidently of huge importance to Sauret from the very beginning stages of teaching the violin.
This kind of attention to bowing nuance and detail is not to be found in the practical stage of the opening pages of Baillot's Méthode du Violon (1793), Spohr's Violinschule (1832), Bériot's Méthode de violon, Op.102 (1858), David's Violinschule (1863) or even in his contemporaries' publications, including Sevcik's School of Bowing Technic, Op.2 (1894), Wilhelmj's A Modern School for the Violin (1898) and Joachim's Violinschule (1905).
The expressive terminology Sauret uses in his introduction to the Gradus Ad Parnassum speaks directly to the characteristics of his own playing as attested by countless periodicals and reviews of his concerts worldwide. Gleaned from numerous reviews - 'graceful', 'delicate', 'pure', 'sweet', 'limpid', 'clearness', 'poetic', accompanied by 'peculiar smoothness' and 'consummate ease' - give an indication on the impressions of Sauret's playing, which in turn reveal a distinctive expressive and tonal personality.
It became clear early in the process to my research into Émile Sauret and his 24 Études-Caprices, that his fame in his lifetime has not been carried forwards into a posthumous understanding of his musical personality and that I needed to build a detailed picture of his musical life to have a sense of who he was and what he represented.
Sauret frequently performed at some of London's most prestigious venues, including the Queen's Hall, St James's Hall, Royal Albert Hall (1908 and 1914), the Wigmore Hall (between 1901 and 1913). He was a huge success in the United States, and gave performances in the Carnegie Hall in 1896 and 1906. He performed with the world's leading orchestras including the Leipzig Gewandhaus Orchestra, London Symphony Orchestra, Budapest Philharmonic Orchestra, the Chicago, Boston, Cincinnati Symphony Orchestras and many more. With the Berliner Philharmoniker, he gave numerous concerto performances (between 1893 and 1911), presenting rarely performed concertos by Busoni, Joseph Joachim Raff, Rubinstein, Gernsheim, Moszkowski, and it was with that orchestra that he premiered in 1888 his third violin concerto in B minor (in manuscript).
During his twelve-year appointment at the Royal Academy of Music, Sauret had 150 students pass through his class and also directed the string ensemble class. His pupils exerted a powerful influence on English music making in the decades that followed. They included William Henry Reed (a founding member of the London Symphony Orchestra in 1904 and its leader between 1912 and 1935), John and William Waterhouse, Gerald Walenn, Ruth Clarkson, Florizel von Reuter and Isolde Menges.
Ethel Barns was a RAM sub-Professor, whilst Rowsby Woof, Sydney Robjohns and Elsie Nye continued onto become Professors at the Royal Academy of Music. When the great violist ex-RAM student, Lionel Tertis returned to the institution in 1899-1900, he was appointed a sub-Professor of the viola. One of his duties was to play in the weekly string ensemble class conducted by Sauret. He wrote in his book of memoirs that 'Sauret possessed the most amazing left-hand technique, and his bow arm too was wonderful - in fact he was a virtuoso in the true sense of the word. He turned out a galaxy of brilliant fiddlers during his professorship'.
In the 1900 edition of the Musical Times, Sauret's pupils Nettie Atkinson and Edith Byford observed that the rarity Sauret demonstrated as an artist of his stature, was the ability to 'teach a beginner of talent with as much care and interest as he took with his most advanced pupils, who already made a name for themselves'.
Sauret's student and dedicatee of the 24 Études-Caprices, Marjorie Hayward, left a vast collection of solo and chamber recordings which help continue his legacy. She led the English String Quartet (which included Frank Bridge on viola) and later led the Virtuoso Quartet (the first chamber group formed specifically for making chamber recordings). Hayward often performed solo concertos at the Proms and she was a Fellow of the Royal Academy of Music, becoming a Professor there in 1924. An article in the 1909 edition of The Strad, provides valuable insights into her playing, similar to those of Sauret:
'Perhaps the outstanding feature in Miss Hayward's playing is her tone. I once heard the epithet "silvery-tongued" applied to it by a contemporary, and it very aptly describes the quality of the sound she produces. Technical difficulties she masters with the greatest ease, her harmonics being bell-like in their clearness, and she has a charming simplicity and refinement of style.'
When Sauret relinquished his professorial post at the Royal Academy of Music in 1903, some of his students followed him to Chicago College of Music in the United States. From Chicago, he moved to Geneva where he lived for a time and gave private lessons to a selected number of students.
While Sauret continued to tour and give concerts worldwide, he took up his last professorial appointment at London's Trinity College of Music in 1915 and taught there until 1919. Sauret was still actively performing in 1920 and it remains a mystery as to why there seem to be no recordings of him, despite ones of his contemporaries including Wilhelmj, Joachim, Sarasate and Ysaye appearing in the early 1900's. The Times newspaper announced a concert he was to give on 15th February 1920 with pianist, Mme. Henkel, (performing sonatas by Schumann and Franck). The concert never took place as Sauret passed away on February 12.
A video featuring the 'Sauret' Strad, filmed live from a recording session offers a glimpse into the final Etude Caprice No.24 of the set.
Although there is a feeling of emptiness one can experience as a player when reaching the end of a good series, the Fine marking in the last bar of the final Allegro gives a sense of completion to a project which has comprised 129 pages, over 6,000 bars and nearly four-and-a-half hours of continuous music – an unprecedented journey and experience in this genre.
24 Études-Caprices, Op. 64 – Vol. 4 (Nos.20–24) featuring Nazrin Rashidova playing the c.1685 'Sauret' Stradivari is released on Naxos (8.574159) on 22 May 2020.
Nazrin Rashidova is currently pursuing a PhD at the Royal Academy of Music where her research explores Émile Sauret and his 24 Études-Caprices. She would like to thank the Worshipful Company of Musicians for their kind support towards the third and fourth volumes of the recording series, and John Ludlow for the loan of the 'Sauret' Stradivari