Re-scorings of wind to strings hit the mark in this trio of trios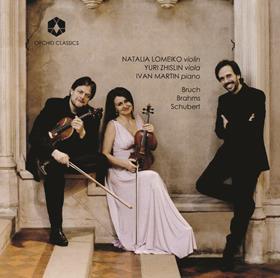 The Strad Issue: October 2019
Description: Re-scorings of wind to strings hit the mark in this trio of trios
Musicians: Natalia Lomeiko (violin) 
Yuri Zhislin (viola) Ivan Martin (piano)
Works: BRAHMS Trio in E flat major op.40 BRUCH Eight pieces op.83 SCHUBERT Nocturne in E flat major D897
Catalogue Number: ORCHID CLASSICS ORC100098
While Natalia Lomeiko, Yuri Zhislin and Ivan Martin may not be the first to record Brahms's early-maturity Trio for horn, violin and piano, it would be hard to top these readings for the extent to which their colourings honour the original instrumentation. It's not simply that the viola is a fairly natural substitute for the waldhorn in the first place. It's also that these three musicians' tones are gorgeously dark and softly cloaked, with the whole imbued with wonderfully tender nostalgia. Indeed, this is immensely satisfying Brahms all over: comfortable-feeling tempos, metrical limbo-land moments floating along with ease, long phrases expertly grown, and a well-nigh perfect balancing of brightly toned grandeur, soft bubbling and dusky intimacy.
The violin perhaps isn't quite as natural a substitute for the clarinet, which is what's then required as the trio turns to Bruch's Eight Pieces for viola, clarinet and piano, an equally nostalgic set written at the start of the 20th century when Bruch was 70 and very much sounding from a bygone Brahmsian era. However, as Joanna Wyld's sleeve notes point out, the switch is fitting with Bruch's strong relationship with the violin; and certainly the end result indisputably works, helped by Lomeiko's softening position work, and tempo choices on the leisurely end of the scale (especially the Nachtgesang).
Add an equally softly glowing reading of the piano trio Schubert wrote in his last year (Zhislin now taking the cello role), all captured in a warm, clear recording, and this is an album I'll be returning to.
CHARLOTTE GARDNER