Charlotte Gardner views the performance on 14 December 2021, beamed live from Pine's apartment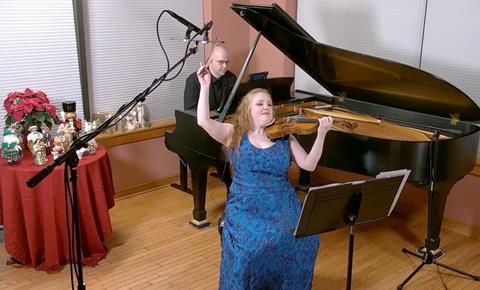 The first pleasure of Rachel Barton Pine's live-streamed recital with pianist Matthew Hagle was its sense of intimacy, from the insight they proffered on the works as they went, to the acoustic of Pine's condo which, while slightly dry and unforgiving, allowed her to drop dynamics down to the most fragile whisper. There was also the resonance of hearing Brahms's first and third violin sonatas on Pine's 1742 'ex-Bazzini, ex-Soldat' Guarneri 'del Gesù' which was once owned by Brahms's protegée, violinist Marie Soldat, and chosen for her by Brahms himself.
Those two sonatas, Brahms's Lullaby (a wonderful vehicle for the Guarneri's velvety depths) and Clara Schumann's Three Romances all had their pleasures, but the greatest treat was the 1878 Violin Sonata in B minor by Brahms's and the Schumanns' mutual friend, violinist–composer Amanda Maier. Long before Pine's and Hagle's flair-filled final Allegro molto vivace I was wondering why we don't hear it more. This was down to their strong conversational interplay, the sophisticatedly rendered passion they brought to its fiery moments and their delicacy in its softer ones. Added intrigue came via its occasional similarities of mood and contour to the preceding Brahms First Violin Sonata – written concurrently but completed in 1879. The evening was intimate and fascinating.
CHARLOTTE GARDNER