Andrew Mellor watches the performance at the Grieghallen Bergen, Norway, on 3 February 2021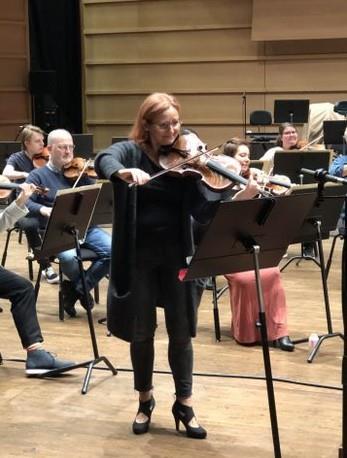 Edward Gardner has spoken about the special qualities of the Bergen Philharmonic strings, their woody sound and ability to play a proper pianissimo. The performance of Sibelius's Valse Triste in this 'Wintermezzo' series concert suggests he is not just talking his orchestra up.
Strings were the focus of the programme, centred on the Viola Concerto by Pēteris Vasks written for Maxim Rysanov last decade, which came after a swift rendition of Sibelius's Andante Festivo. The idea of light in the darkness that characterises all the Latvian composer's music resonates strongly right now but the viola's journey to major-key safety in the concerto is a long and fraught one. Sometimes this doesn't seem like Vasks' most effectively formed piece and likewise, soloist Ilze Klava (viola section leader) struggled to sustain that journey and clarify its cadenzas, while the orchestra seemed to assemble the second-movement dances by parts. Klava couldn't quite bring Rysanov's conviction or prayerful intensity to the piece, but her sound has a beautiful naturalness to it which came to the fore when the performance settled and glowed in its Adagio finale.
Sibelius's Symphony no.3 is the first in which the composer's distinctive architectural features come to the fore – micro and macro speeds locking into one another, figuration becoming theme and so on. This was a fine performance as much for concertmaster Melina Mandozzi's intelligence in those matters as Gardner's. The second movement was particularly delicious, its hemiolas swung effortlessly and its front-desk chorale sections sounding like viol consorts. In this piece, as in the Vasks, the violas are the heroes but the quality of the Bergen strings, across the board, is worth extolling.
ANDREW MELLOR