Much to engage in this second volume of chamber music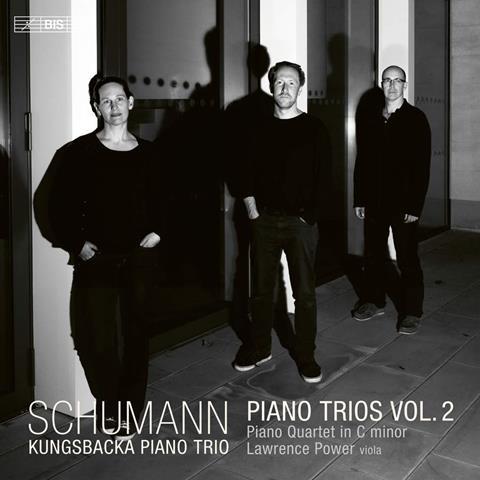 The Strad Issue: September 2023
Description: Much to engage in this second volume of chamber music
Musicians: Kungsbacka Piano Trio, Lawrence Power (viola)
Works: Schumann: Piano Trios vol.2: no.3 in G minor op.110; Six Studies in Canonic Form op.56 (arr. Kirchner); Piano Quartet in C minor WoO32
Catalogue number: BIS BIS-2477
The Kungsbacka players start Schumann's G minor Trio with a sweeping turbulence, full of nervous energy that is ratcheted up still further in the development. Violinist Malin Broman plays the opening of the slow movement with a rich, woody sound. The accents of the torrid central section are punched out, and Broman leans on a heartfelt sfp in the final phrase.
The third movement presses forward, always urgent and always essentially legato. The finale has a rustic, dancing quality, shot through with a nervy unease; here, the trio pays particularly close attention to the composer's dynamics.
Schumann wrote his C minor Piano Quartet when he was 18 and still at university. It has both weight and carefree innocence, reflected here in a performance that is variously muscular and full of youthful joy. Broman caresses the melodies of the opening Allegro, her tone sweet and pure. There is much scalic banter in the Menuetto, contrasting with an Andante that has a magical passage of repose at its centre; the closing Allegro, with its martial rhythms and alluring melody, builds in exuberance. The six fugal studies, originally for pedal piano, feature some melancholy playing, with an eloquent dialogue between violin and cello in the third study and quiet nobility in the final Adagio. The recording is warm and close.
TIM HOMFRAY