Outstanding collection of lesser-known chamber works from talented ensemble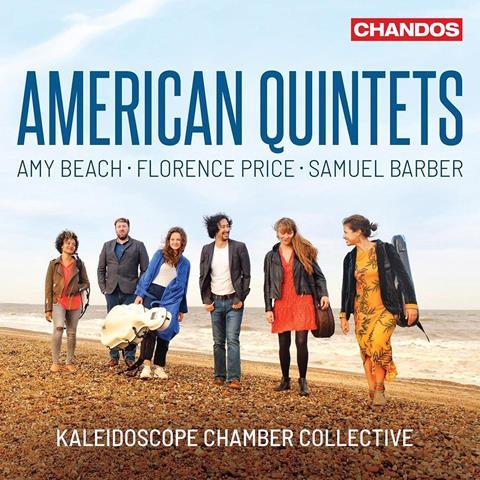 THE STRAD RECOMMENDS
The Strad Issue: August 2021
Description: Outstanding collection of lesser-known chamber works from talented ensemble
Musicians: Kaleidoscope Chamber Collective, Matthew Rose (bass)
Works: Beach: Piano Quintet op.67. Price: Piano Quintet in A minor. Barber: Dover Beach
Catalogue number: CHANDOS CHAN 20224
This outstanding debut album by Wigmore Hall associate ensemble the Kaleidoscope Chamber Collective brings together an exceptional array of talent, including violinists Elena Urioste (alongside regular playing partner, pianist Tom Poster) and Melissa White, violist Rosalind Ventris and cellist Laura van der Heijden. They immediately arrest the attention by starting Amy Beach's op.67 Piano Quintet senza vibrato and, as the main Allegro moderato gets under way, pace the mounting sense of emotional intensity to perfection. In the wrong hands, Beach's unmistakably Brahmsian creative trajectory can create a mild sense of stylistic déjà vu, but played like this, sensitively nurtured with a sonic profile like crushed velvet (captured in alluringly opulent sound by Jonathan Cooper and Patrick Friend), she emerges as a ravishingly inspired master in her own right.
Rediscovered in an Illinois attic in 2009 and first published in 2017, Florence Price's A minor Piano Quintet is inscribed '1952', although on stylistic grounds it is more likely to date from the mid-1930s. Brahms is once again the principal stylistic springboard, yet listeners are propelled along by Price's deeply personal rhythmic and melodic inflections, derived from spirituals, hymns and plantation songs (late Dvořák is brought to mind on several occasions), and unexpected moments of expressive rhetoric, such as the opening movement's violin recitativos.
Barber's Dover Beach is given another winning performance, Matthew Rose's radiantly mellow tones blending with Kaleidoscope's exquisitely inflected soundscape to captivating effect.
JULIAN HAYLOCK