A typically thoughtful programme from a rising chamber ensemble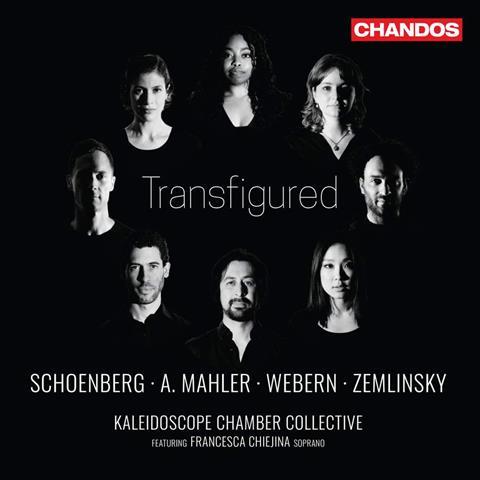 The Strad Issue: December 2023
Description: A typically thoughtful programme from a rising chamber ensemble
Musicians: Kaleidoscope Chamber Collective
Works: Mahler: Four Songs (arr. Poster). Schoenberg: Verklärte Nacht. Webern: Quintet for strings and piano. Zemlinsky: Maiblumen blühten überall
Catalogue number: CHANDOS CHAN20277
It would take a diagram to illustrate all the links between the works on this CD. The poet Richard Dehmel stands at the centre, with his poetry set by Alma Mahler and her erstwhile teacher Zemlinsky; Schoenberg, another of Zemlinsky's students and later his brother-in-law, used another poem as the basis of Verklärte Nacht. And Schoenberg's pupil Webern is here too.
Zemlinsky's setting of Maiblumen blühten überall for soprano and string sextet is musically kin to the Schoenberg, with superheated harmonies and yearning melodic lines. Kaleidoscope Chamber Collective plays with great fervour and sensitively complements Francesca Chiejina's singing. Webern's 1907 Quintet for piano and strings sounds curiously old-fashioned in this company, with Brahms always hovering nearby. The Collective plays it with febrile intensity, drawing its many changes of pace and character into a compelling narrative. Chiejina sings Alma Mahler's four songs with beauty of tone and an appealing simplicity, matched by the Collective and Tom Poster's effective arrangements.
Verklärte Nacht grows from an extremely quiet opening into delicate and seemingly uncertain playing before the robust viola changes the mood. The constant shifts in emotional temperature throughout the work are beautifully caught. The Collective can be fierce and assertive, fragile and ecstatic, all done with textural clarity and exemplary control of pacing. Dehmel would surely have recognised his poem in this performance and approved. The recording is clear and warm.
TIM HOMFRAY