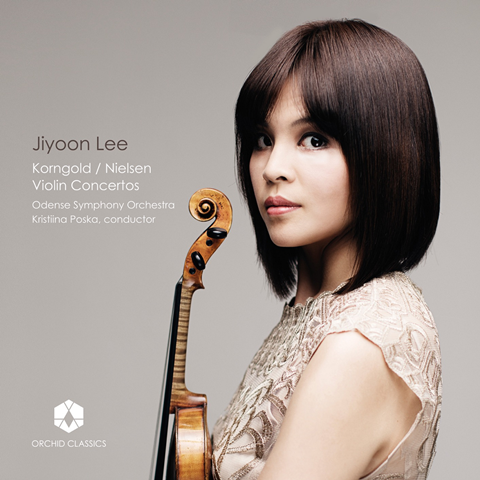 The Strad Issue: August 2018
Description: Powerful and convincing playing in a promising prizewinner's debut
Musicians: Jiyoon Lee (violin), Odense Symphony Orchestra/Kristiina Poska
Works: KORNGOLD Violin Concerto in D major op.35, NIELSEN Violin Concerto
Catalogue Number: ORCHID CLASSICS ORC100079
Nielsen's Violin Concerto was a natural choice for Jiyoon Lee's debut CD. She won first prize in the 2016 Carl Nielsen International Competiton, hosted by the Odense Symphony Orchestra – her excellent partner on this disc. Before it comes Korngold's Concerto. In the first movement Lee is both expansive and intense, playing with just the right degree of rhythmic freedom to seem in easy conversation with the orchestra, while never losing its sense of dramatic purpose.
In the second she moulds Korngold's twisting arabesques with poetic finesse, and hovers in many a moment of apparently timeless suspension before pressing on with sudden energy. In the finale there is plenty of fire. It all has vivid colour, aided by the warmth and closeness of the recording.
There is drama in the opening Largo of Nielsen's Concerto, with some quiet rapture at its heart. In the ensuing Allegro cavalleresco she dashes off the dancing semiquavers with an impish lightness of touch and executes the cadenza with superb technical assurance. In the Poco Adagio, her playing is gentle, introspective, the melody on the G and D strings beautifully sustained and hushed. In the Rondo she is skittish and witty, before entering the severe world of the cadenza, which she plays with focused power.
TIM HOMFRAY