Telling readings of quartets by a violinist-composer marrying French and German styles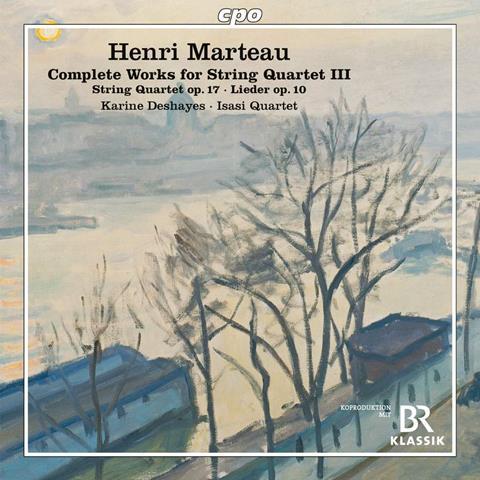 The Strad Issue: December 2022
Description: Telling readings of quartets by a violinist-composer marrying French and German styles
Musicians: Isasi Quartet, Karine Deshayes (soprano)
Works: Marteau: Complete works for string quartet vol.3: String Quartet no.3 op.17; Eight Songs op.10
Catalogue number: CPO 555130-2
Henri Marteau (1874–1934) was born in Reims of a German mother (who had been a pupil of Clara Schumann) and a French father. He was a child prodigy violinist (among his early achievements was the US premiere of Brahms's Violin Concerto aged 19) and later taught violin and chamber music in Geneva before moving through many of the leading music schools in Germany. This musical bilingualism – caught between 'French elegance' and 'German thoroughness', as one early critic put it – was his undoing in the First World War, when he was rejected as a runaway by the French and interned as an enemy alien in his adopted Germany.
It was against this background that he composed the last of his three string quartets in 1918, an unusual work that also displays a duality with Franco-Belgian cyclic form meeting Lisztian thematic metamorphosis. A rather demure C major opening movement is followed by an intense 'Hymn to Sorrow' slow movement, fantastical part-pizzicato, part-waltzing scherzo and triumphant finale. The members of the Isasi Quartet have obviously worked hard to bring these two musical worlds together, and the result is more convincing in sound than the music appears on paper.
The accompanying song-cycle dates from 1905 and is probably the first work to couple string quartet with soprano voice, predating the better-known examples by Schoenberg, Respighi and Barber. The string writing, atmospherically played here, enhances the rather precious poetry of Marteau's first wife Agnes (the first poem is by Lenau), but with singer Karine Deshayes the results are effective.
MATTHEW RYE