No Faustian pacts here: a well-integrated chamber-theatre vehicle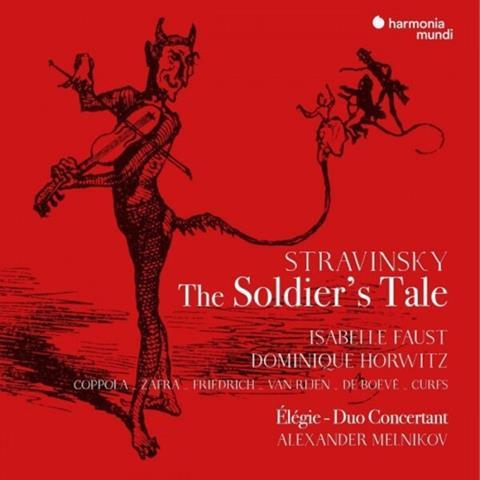 The Strad Issue: October 2021
Description: No Faustian pacts here: a well-integrated chamber-theatre vehicle
Musicians: Isabelle Faust (violin) Alexander Melnikov (piano) Dominique Horwitz (narrator) Lorenzo Coppola (clarinets) Javier Zafra (bassoon) Reinhold Friedrich (cornets) Jörgen van Rijen (trombone) Wies de Boevé (double bass) Raymond Curfs (percussion)
Works: Stravinsky: The Soldier's Tale, Élégie, Duo concertant
Catalogue number: HARMONIA MUNDI HMM 992671
If nominative determinism means anything it was the destiny of Isabelle Faust to be involved in the tale of someone who sells their soul to the devil. But despite the difficulty of its solo violin part, Stravinsky's Soldier's Tale is less the vehicle for a star soloist than an integrated chamber-theatre piece that challenges all participants, and that is how Faust treats it here. If anything, it is the narrator in the form of French TV and film actor Dominique Horwitz who rather over-dominates; his characterful English delivery (French and German versions are also available) soon tires and, with minutes of talking between musical numbers, for repeated listening it's worth programming the CD or media player to filter out those tracks and concentrate on the superb music making.
Faust has brought the work into the HIP era with percussion and wind instruments of the early 20th century and the two 18th-century stringed instruments (including Faust's 'Sleeping Beauty' Stradivari) playing on gut strings. It's such a deliberately abrasive piece that this all makes less of a difference than one might imagine, though it is fruitily played and kept rhythmically tight.
Faust fills out this well-recorded disc with a touchingly persuasive performance of Stravinsky's poignant, muted Élégie and the crisper neo-Classicism of the Duo concertant with Alexander Melnikov a supportive partner on piano.
MATTHEW RYE