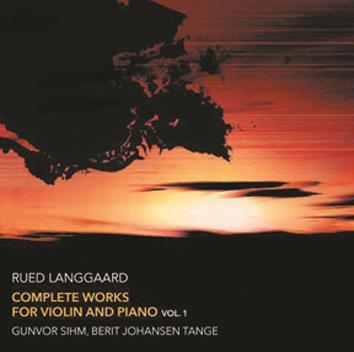 The Strad Issue: December 2017
Description: Wondrously played experimental works from a unique Danish talent
Musicians: Gunvor Sihm (violin), Berit Johansen Tange (piano)
Works: LANGGAARD Écrasez l'infâme; Sonata (unfinished); Short Violin Sonata; Sonata no.4 'Parce nobis, Jesu!'
Catalogue Number: DACAPO 8226130
This is the first in a three-disc series of violin and piano works by the Danish eccentric Rued Langgaard. Both the artists featured here have a track record with the composer: Berit Johansen Tange has recorded three discs of his piano music and Gunvor Sihm formed one quarter of the Nightingale Quartet's traversal of his quartet works.
Three of the four pieces here come from 1949, the final year of the composer's 'musical frenzy' that delivered reams of heartfelt experimental works. More disciplined composers don't rant, but when Langgaard does, his music is as compelling and fascinating as anyone's. Écrasez l'infâme ('crush the abomination') sees a Brahms-like gesture assailed by wide-eyed apocalyptic visions. In Sonata no.4 the confrontation is a little more multifaceted, while that piece and the Short Sonata (just three and a half minutes but in complete sonata form) has echoes of the composer's six-minute, single-cadence Symphony no.11 'Ixion'.
In the unfinished sonata of 1909–11 we hear that these musicians can do Romantic rhetoric as well as human impulse. Langgaard weights the piece towards the piano but Sihm holds her own on her 1725 Guarneri while enjoying the fight. She finds a way to bend wild phrases into submission and is thrillingly aware of where one might tip from joyous rhapsody into railing anger. In the central section of the second movement, Johansen Tange's chords move from the thunderous to the consoling, while Sihm's poise and control in the final bars is wondrous. Recorded sound is good and this is essential listening.
ANDREW MELLOR