A fascinating encounter between old-world opulence and modern musicianship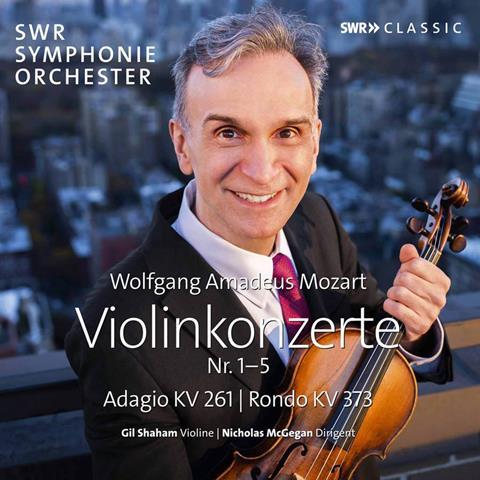 The Strad Issue: May 2022
Description: A fascinating encounter between old-world opulence and modern musicianship
Musicians: Gil Shaham (violin) SWR Symphony Orchestra/Nicholas McGegan
Works: Mozart: Violin Concertos: no.1 in B flat major K207, no.2 in D major K211, no.3 in G major K216, no.4 in D major K218, no.5 in A major K219 'Turkish'; Adagio in E major K261; Rondo in C major K373
Catalogue number: SWR MUSIC SWR19113CD (2 CDS)
Pair Gil Shaham with a versatile orchestra directed by such an enlightened musician as Nicholas McGegan and the outcome is a pragmatic hybrid of historical and traditional performance styles. Shaham, playing the 'Countess Polignac' Stradivari, is reasonably attuned to Classical decorum, save for some indulgent touches of vibrato and portamento, particularly in the slow movements, and he gives accurate, polished accounts of all five concertos, effortlessly rattling off the outer movements' solo passages with fleet fingerwork, light bowing, subtle inflections and crystal-clear articulation.
Striking, too, are his poised, lyrical accounts of the central slow movements, most notably of K218, with its chirpy second idea and magically hushed final solo passage. The rondo finales are characterised by their exuberance and sheer fun, most notably that of K219, in which a gentle minuet section is interrupted by the fiery 'Turkish' episode, spiced up by snarling crescendos and double basses playing percussively coll'arco al rovescio. Shaham takes occasional liberties with the printed text and adds a modicum of tasteful extempore embellishment. Cadenzas, though, are largely overlong and anachronistic, as are most of the Eingänge (lead-ins); but some do fit the bill handsomely, most notably in the Rondeau of K219.
The makeweights in this package, the single-movement Rondo K373 and the Adagio K261, are both elegantly delivered. The orchestral contribution, which is especially commendable for its detail in K211, is consistently alert, neat and buoyant, with the pairs of horns and oboes ideally balanced against the modestly sized string ensemble. The studio recording leaves little to be desired.
ROBIN STOWELL