Powerfully characterful performances, full of panache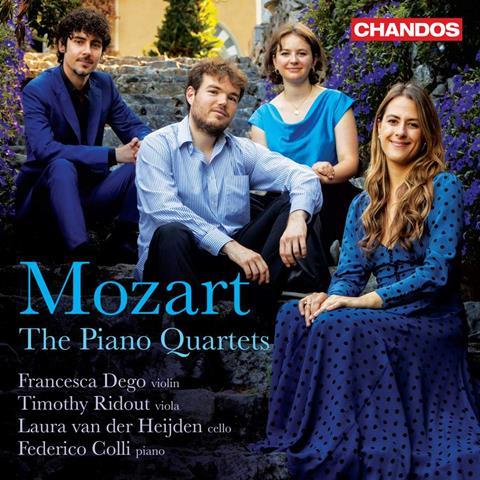 The Strad Issue: September 2023
Description: Powerfully characterful performances, full of panache
Musicians: Francesca Dego (violin) Timothy Ridout (viola) Laura van der Heijden (cello) Federico Colli (piano)
Works: Mozart: Piano Quartets: G minor K478; E flat major K493
Catalogue number: CHANDOS CHAN20179
It is abundantly evident from the intense reading of K478's fervent opening Allegro that these are accounts to be reckoned with. The principal protagonist, pianist Federico Colli, contributes some assured, characterful and cleanly articulated playing on a bright-toned Steinway; his illustrious string-playing colleagues, using modern instruments and limited vibrato, assist him admirably in forging perceptive interpretations that are convincingly paced, stylish, eloquently shaped and tastefully embellished.
The players dispatch the first movement of K493 with an especially pleasing sense of freedom and perform both central slow movements, particularly K493's harmonically arresting Larghetto, with remarkable sensitivity to phrasing and expressive detail. They take the most liberties in Mozart's jovial final rondos, in which Colli essentially plays a concerto soloist's role.
He dominates the texture in K493 and executes the movement's challenging passagework with spontaneity and aplomb. In K478, following an appropriate additional piano lead-in before the first return of the rondo refrain, he and Dego indulge in some tongue-in-cheek ornamentation; he later introduces some audacious rubato. A lengthy unscripted pause on an interrupted cadence adds further drama near the movement's end.
The instrumental balance fractionally favours the piano over the strings in K478 but seems spot-on in K493, allowing full appreciation of its thematic interplay.
ROBIN STOWELL