The Italian violinist was granted the rare opportunity to perform and record on the famous 1743 Guarneri 'del Gesù' in 2019, as she tells Tom Stewart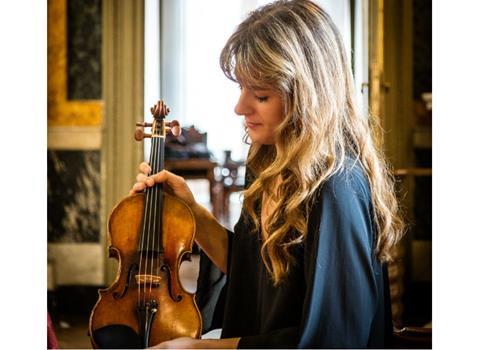 The following extract is from The Strad's March issue feature on Francesca Dego's experiences of recording and performing on Paganini's 'Il Cannone' Guarneri 'del Gesù'. To read in full, click here to subscribe and login. The March 2021 digital magazine and print edition are on sale now.
The violin was accompanied by curators and security guards at all times: 'They were on stage with me for the 2019 performance, when the instrument also had a dressing room that was bigger than mine. On each day I spent with it for the recording, a curator would hand it to me in the morning and I'd have to pass it back to them if I wanted to put it down or leave the room.' Before the violin was put away each evening, its strings were loosened to relieve the tension on its body. 'It's as if you've put them on fresh at the start of each session; they don't stay in tune for very long. Having to retune all the time is time-consuming in a recording session, but it's much more of a problem when you've got a live audience and a 40-minute concerto to get to the end of.'
Before her 2019 performance on 'Il Cannone', however, Dego had only two hours to get to know the instrument. Rehearsing with the orchestra, she played her own violin – a 1697 Francesco Rugeri – before the Guarneri 'del Gesù' was transferred, along with its omnipresent contingent of guards, to the Teatro Carlo Felice. 'It was simultaneously a dream come true and the most stressful thing imaginable!' she says.
Read: Francesca Dego: Life Lessons
'The violin feels a little longer than average, and it seems to get bigger as you work your way up the fingerboard; I would start an arpeggio perfectly happily but feel less and less secure the higher I climbed.' Although its greater distances made playing 'Il Cannone' a tiring experience, other aspects of its personality were more familiar: 'Funnily enough, I fell in love with my Rugeri because it has the depth and projection I associate with "del Gesù" instruments. "Il Cannone" is the same – its G string brings you as close as possible to the voice of the cello and its E string can really pierce your brain.
'I recently read a letter that Paganini sent to a friend before he was given "Il Cannone". He asks him to look out for a violin with particular volume on the G and E. It's rare to focus so much on the qualities of the E string when looking for an instrument, perhaps because it's more difficult to find one with real depth of sound in the lowest register. The violin is most distinctive when it's soaring at the top of its range, though, so for me it's just as important as the lower end.'
Francesca Dego's recording on 'Il Cannone' is released on Chandos on 26 February 2021.
This article was published in the March 2021 Francesca Dego issue

The Italian violinist is granted the rare opportunity to record on Paganini's 'Il Cannone' Guarneri 'del Gesù'. Explore all the articles in this issue. Explore all the articles in this issue

More from this issue…