A fitting 50th-anniversary recording of late Shostakovich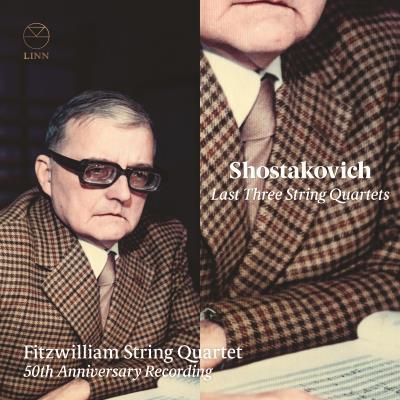 THE STRAD RECOMMENDS
The Strad Issue: February 2020
Description: A fitting 50th-anniversary recording of late Shostakovich
Musicians: Fitzwilliam Quartet
Works: Shostakovich: Last Three String Quartets: no.13 in B flat minor op.138; no.14 in F sharp major op.142; no.15 in E flat minor, op.144
Catalogue Number: Linn CKD 612
To mark its 50th anniversary, the Fitzwilliam Quartet has re-recorded Shostakovich's last three quartets – whose first Western performances were given by the ensemble. No.13 (1970) was dedicated to the then recently retired violist of the Beethoven Quartet, and here features the Fitzwilliam's Alan George. He makes a mark not least in the short–short–long gestures that rip through the sustained ffp chords in the first movement. His booklet notes, incidentally, are generous and illuminating too.
From the start, it's evident that the Fitzwilliam has worked at removing any hint of conventional Romantic–lyrical expression, so that the melodic material obtains an affecting remoteness. A rare exception perhaps is a first violin/cello duet in no.14's second movement, which the composer referred to as 'the Italian bit'.
The folksong-like cello tune that opens no.14 is suitably sprightly. By contrast the muted first violin line that closes the same quartet's second movement fades arrestingly into nothing. The players perfectly match each other in the hocketing effect in the last movement.
In the opening Elegy of no.15 the players project slow-moving immensity, while the otherworldly muted viola solo of the fourth movement and the eerie gusts in the finale seize the imagination. The recorded sound is immediate but spacious, with the instruments deftly balanced. A gift all round.
EDWARD BHESANIA