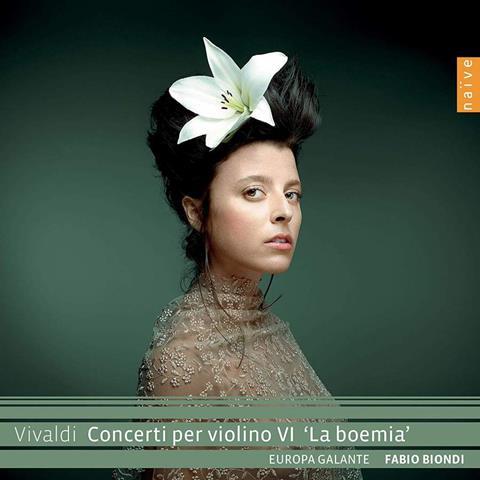 THE STRAD RECOMMENDS
The Strad Issue: February 2019
Description: The composer in Bohemia: another joyous release in the Vivaldi Edition
Musicians: Europa Galante/Fabio Biondi (violin)
Works: VIVALDI Violin Concertos: in F major RV282, in E minor RV278, in B flat major RV380, in C major RV186, in F major RV288, in G minor RV330
Catalogue Number: NAÏVE OP 30572
There's an extent to which Naïve's Vivaldi Edition doesn't even need to be reviewed. Conceived by the Italian musicologist Alberto Basso and the record label, this is the ambitious project to record the 450-plus private library of scores Vivaldi had at home at the time of his death in Vienna in 1741, and I can't think of a single one among what is now 50-odd titles that hasn't beautifully married painstaking scholarship with artistic pizzazz. This latest from Fabio Biondi and Europa Galante is no exception.
On the menu are six violin concertos composed during Vivaldi's 1730–31 stay in Bohemia, where his fanbase remained loyal even after his Venice home crowd grew lukewarm. What's interesting about the six, which were not conceived as a set, is how they could be from different stylistic phases, such are their differing languages.
For instance RV186, with its non-contrapuntal orchestral textures and solo-line directness, recalls Vivaldi's breakthrough L'estro armonico collection of 1711, while RV380 hints at the fashionable Neapolitan dotted rhythms with which in later years Vivaldi tried to reflect evolving fashion.
Beyond the utter naturalness, energy and charm with which Biondi and Europa Galante speak Vivaldi's multiple languages here, they've also gone the further mile, most notably with Biondi penning beautiful linking cadenzas between the movements of RV282 and RV380, in recognition of Vivaldi's own improvisational prowess at the height of his performing virtuoso years. Another release to add joyfully to the collection.
CHARLOTTE GARDNER