American quartets receive wonderfully striking and immediate interpretations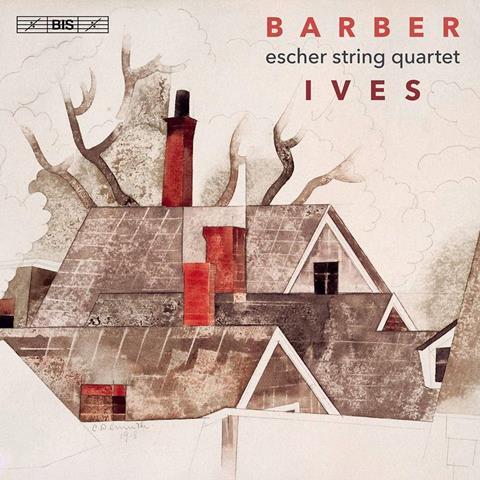 The Strad Issue: November 2021
Description: American quartets receive wonderfully striking and immediate interpretations
Musicians: Escher Quartet
Works: Barber: String Quartet in B minor op.11. Ives: String quartets: no.1 'From the Salvation Army', no.2; A Set of Three Short Pieces
Catalogue number: BIS BIS-2360 (SACD)
The arresting opening flourish of Barber's op.11 Quartet sets out the Escher Quartet's stall for this disc with immediate colour and dynamism. Then the players surround the chorale-like second theme with tonal radiance, and gently question the lyrical più mosso third theme with a nervously syncopated undertone. The second movement (not just any Adagio, this is Barber's Adagio) is less soupy than the interminable, directionless stepwise movement we sometimes hear especially in string orchestra performances – with leaner colouring and, at the heightened climax, impressive power at the top of the players' ranges. The Escher also offers the substantial third movement that Barber discarded from the work before its publication. The playing here is lithe and joyful, with innocent charm and palpable optimism.
Rooted in tonality and replete with hymn-tune quotations, Ives's First String Quartet is less adventurous than his Second, but it's played by turns with upright vigour and folksy charm. Even the more blatant borrowings emerge naturally, the quartet inserting quotation marks without also throwing in bold and underlining. But the Quartet no.2 is Ives at his dizzying, multilayering, anti-tonal, cluster-harmonic best. Sporting blend, passion, commitment and technical mastery, the players deliver a striking performance.
A fascinating snapshot of American quartets, with a recording that is brilliantly detailed, this is a first-rate release all round.
EDWARD BHESANIA