Fabulous 'Finger buffet' is a smorgasbord of styles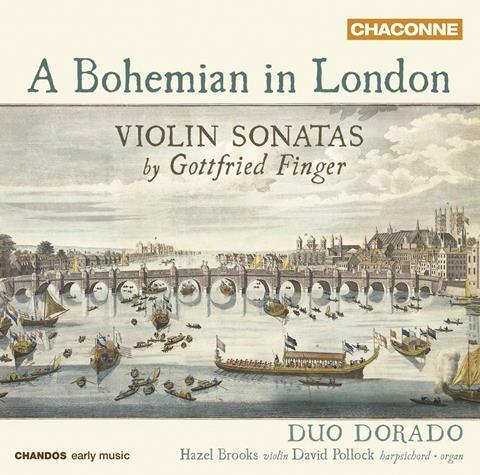 The Strad Issue: November 2019
Description: Fabulous 'Finger buffet' is a smorgasbord of styles
Musicians: Duo Dorado
Works: FINGER Violin Sonatas
Catalogue Number: CHANDOS CHACONNE CHAN 0824
Violinist Hazel Brooks deserves much praise for sifting out from British Library manuscript Add.31466 her selection of the 13 best unpublished violin sonatas by the London-based Moravian Gottfried Finger and committing them to disc. The resultant Finger buffet offers a mixture of Moravian, Italian and English styles and includes many sonatas which comprise a patchwork of short, contrasting sections (rather than separate movements), sometimes linked by brief passages for keyboard continuo.
Brooks offers competent, stylish and largely technically assured accounts. She is at her best in fast, crisply articulated moto perpetuo sections such as the final part of RI136 in F major, recitative-like passages such as the Allegro of RI135 in E major, dance-like passages such as the second section of RI137 in F major and the end of RI125 in B flat major, and in realising figuration above pedal notes (as in RI132 in E major and RI119 in A major). Although the slower sections are sonorous and lyrical, some seem too measured (for example, the opening 'movement' of RI119 or RI129 in D major) and wanting in ornamental flexibility, momentum and flair.
David Pollock lends commendable support at the keyboards and the recorded sound has all the requisite clarity, resonance and ambience.
ROBIN STOWELL