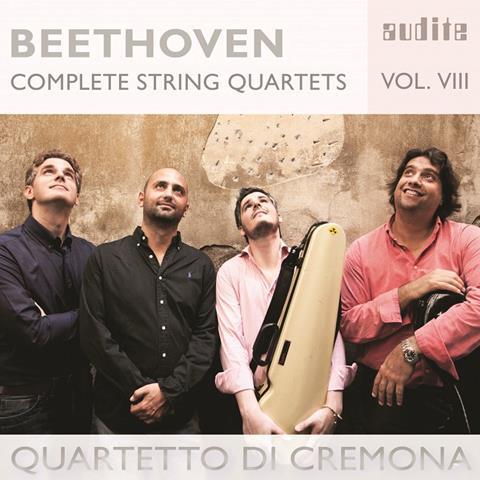 The Strad Issue: January 2018
Description: The Cremona's Beethoven project hurtles towards an exciting climax
Musicians: Cremona Quartet
Works: BEETHOVEN String Quartets: no.3 in D major op.18 no.3, no.10 in E flat major 'Harp'
Catalogue Number: AUDITE 92.688 (hybrid SACD)
The Cremona Quartet completes its Beethoven series with a fine coupling, combining exemplary technique and intonational purity with an interpretive acuity that strips away 19th-century rhetoric while avoiding the pitfalls of sounding merely 'historically informed'. In the early D major Quartet the players convey an affectionate sense of playfulness with a deft cantabile touch and subtly inflected vibrato that ensure phrases tingle with vitality. The composer's penchant for sudden dynamic change is signalled appropriately yet is never allowed to interrupt the musical flow. If the general tendency in op.18 no.3 is to emphasise the music's earthy Haydn inheritance, the Cremona tends more towards Mozartian grace with captivating results.
Whereas in op.18 no.3 tempos are generally on the relaxed side, in the 'Harp' Quartet – most notably in the opening movement and scherzo – the Cremona keeps things moving. The scherzo, with its stabbing Sturm und Drang sforzandos, even suggests a hint of breathlessness as the music hurtles along with a seemingly unstoppable surge. Other ensembles may have infused the theme-and-variations finale with more overt warmth and charm, although in context the Cremona's refusal to gild the lily feels entirely authentic and appropriate.
JULIAN HAYLOCK