Leah Hollingsworth reviews the performance at New York's Church of the Intercession, 4 December 2019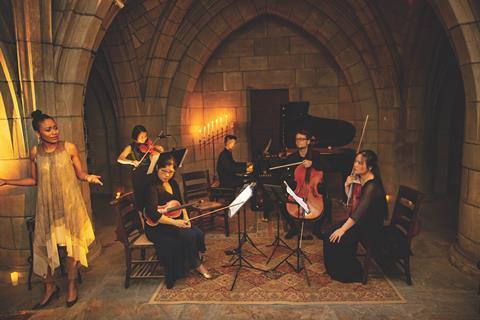 Six extremely talented performers came together to present a unique all-Britten programme on the anniversary of the composer's death at the Crypt Sessions. Britten's String Quartet no.1 was performed with dramatic interludes between the movements featuring an actor who read excerpts from Britten's letters and engaged the quartet members in a dialogue (with Britten's 'spirit') which was illuminating – though a little strange. 'How do you live in a broken world?' served as the theme of evening; the performance seemed to offer the answer: 'music'.
The acoustics enhanced the intensity of Britten's First String Quartet, though at times the texture was too thick and individual lines were not differentiated enough; Emilie-Anne Gendron's marvellous and lyrical playing in the second movement did not come out as much as I would have liked. Overall the performance was characterised by terrific individual playing, but the ensemble was not always well balanced. The viola solos by Tien-Hsin Cindy Wu were moving standouts in the third movement: each was well-paced and elegantly realised.
Selections from Britten's op.6 Suite for violin and piano followed. Violinist Mari Lee performed double- and quadruple-stops with panache and even elegance, and she created haunting and powerfully lyrical phrases despite the technical difficulty of the piece. Her double-stopped semiquaver runs were extremely impressive.
Britten's Second String Quartet concluded the performance (also with dramatic interludes), and the first movement in particular was extremely beautiful and compellingly played. The third movement was well structured and Mihai Marica's cello cadenza was impressive. Lee's first violin cadenza was stunningly well-played and led to an intense and powerful ending.
LEAH HOLLINGSWORTH