Charlotte Gardner listens to the performance of Mozart, Haydn and Henela Winkelman at London's Wigmore Hall on 28 April 2022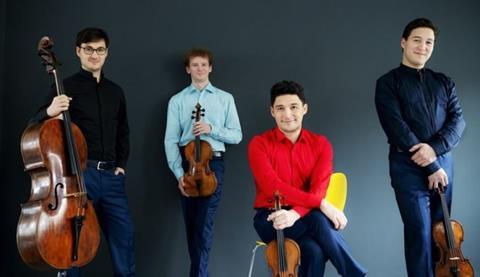 In programming terms alone, April's Wigmore Hall performance from the Schumann Quartet was exactly what today's concert world needs but doesn't always get. First was Haydn's 1781 String Quartet in C major op.33 no.3, nicknamed 'The Bird' in reference to its many avian imitations. Then violinist-composer Helena Winkelman's chirpy 2016 response, Papa Haydn's Parrot, echoing the contours of the Haydn via a zinging harmonic, textural and timbral fireworks show featuring everything from glissandos, harmonics and microtones to a big-band-esque finale. Finally, Mozart's String Quartet K458 'The Hunt', also inspired by the Haydn piece. Talk about how to link musical past and present with vim-filled meaning and beauty.
Equally delectable was the quartet's brightly ringing, luminous and finely finessed sound. Yet what was missing at times was a vital emotional dimension. The Haydn's concluding Presto was folky and nimbly energetic, but harder to define in terms of mood. Winkelman's brilliant 'Rondo in Presence of Fleas' – pinging pizzicato, ponticello and glissando effects – amused largely thanks to her colourful writing. The Mozart yielded the strongest emotional response, including a first-movement theme of a genuinely smiling warmth, and a Romantic-spirited Adagio led by first violinist Erik Schumann. Overall, though, it was an evening that didn't quite hit the spot.
CHARLOTTE GARDNER