Bruce Hodges hears the performance of William Grant Still, Ravel, Boulanger, Beethoven and Heifetz from Philadelphia's Perelman Theater on 14 December 2022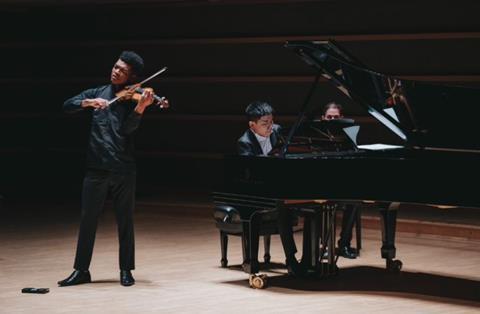 Randall Goosby (violin) Zhu Wang (piano)
Perelman Theater 14 December 2022
'I think we're warmed up now!' grinned violinist Randall Goosby, after he and pianist Zhu Wang dispatched Ravel's Violin Sonata no.2 with such finesse that many in the audience were brought to their feet – only 20 minutes into the evening. The 'Blues' movement was particularly suave, and surely no-one could resist the rocketing arpeggios in the finale.
Goosby and Wang continued with William Grant Still's Suite for violin and piano (1943), inspired by three 1930s Harlem Renaissance sculptures. Conjuring up emotions ranging from intense and fiery to heart-breaking, the duo's energy caused even more people to stand and applaud, and all before the interval.
The first half began with Lili Boulanger's Deux Morceaux (1911–14). Among many scintillating effects was Goosby's unusually warm, dusky muted tone, used to good effect in the final bars of the first Nocturne.
As a friend remarked later, many violinists play Beethoven's 'Kreutzer' Sonata with the goal of showing mastery. But in this case, Goosby brought down the house by playing as if no one in the audience had ever heard it before, or as another enthusiastic friend put it, 'Drive it like you stole it!' Almost as entertaining was Goosby's introductory commentary, noting that the original dedicatee (Kreutzer) was not the violinist who ultimately gave the premiere. Instead, violinist George Bridgetower got the nod, but his name was dropped by the composer after they fell out soon afterwards.
In any case, it was a reading to remember, with both artists intertwining in virtuosity. As an elegant encore, the pair offered Heifetz's much-loved arrangement of Ponce's Estrellita.
BRUCE HODGES