Carlos Maria Solare attends the performance at Berlin's Boulezsaal on 31 March 2022 to hear Vieuxtemps's Viola Sonata and Franck's Violin Sonata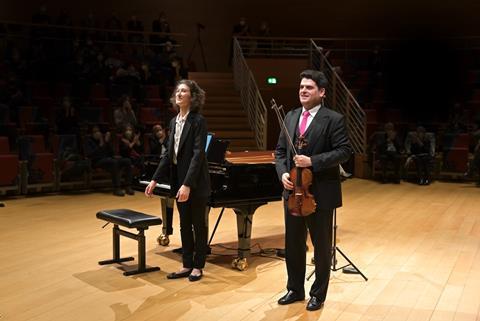 Michael Barenboim first came to wider notice as concertmaster of the West–Eastern Divan Orchestra, but in recent years he has been gravitating towards the viola (in 2020 he succeeded Nobuko Imai as violist of the Michelangelo Quartet). For this recital he paired Vieuxtemps's Viola Sonata with Franck's evergreen one for violin. In both, he revealed an intimate knowledge of the Romantic virtuoso's stock-in-trade, with idiomatic fingerings that highlighted portamento, often changing fingers between repeated notes as suggested in early printed editions but seldom heard today.
Barenboim evinced a fine ear for colour, generously employing natural harmonics and an attractive vibrato that tended to be on the slow side – somewhat to the detriment of the Franck Sonata's more brilliant passages. Nathalia Milstein was on the same musical wavelength, unassumingly taking the lead when appropriate and providing her partner with trustworthy support throughout. Before the Franck, she contributed a beautifully shaped 'Hommage à Rameau' from Debussy's Images.
Barenboim began his programme unaccompanied, with Philippe Manoury's Quasi una ciacona from 2017. He followed the composer's detailed instructions with uncanny exactitude, at certain points changing back and forth between regular tone production, ponticello and col legno at almost every note, while always keeping an eye on the long-term structure of the variations that make up the piece.
Benjamin Attahir dedicated his Bayn Athnyn ('Between Two') to Michael and Daniel Barenboim and this represented its public premiere. This attractively melodious piece requires the former to switch between his two instruments: a central section, exploiting the viola's low register, is bookended by explorations of high-pitched violin harmonics, and the work ends on a sustained low note on the G string. The concert ended with a charming rendition of Debussy's Prélude, 'La fille aux cheveux de lin'.
CARLOS MARÍA SOLARE
Photo: Peter Adamik