Andrew Mellor hears the British soloist perform in Helsingborg Konserthus, Denmark, on 14 March 2019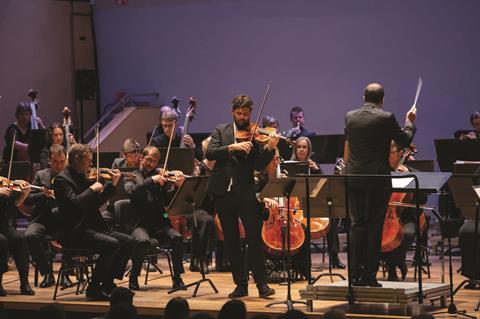 You have to see the Helsingborg Symphony Orchestra's season to believe it. Every concert has a world premiere and/or music by a woman, and the overture–concerto–symphony format is pretty much extinct. 'We wanted a concert about the viola, so we had to call you,' said conductor Stefan Solyom to Lawrence Power during this particular smorgasbord. Before Power had played a note, the orchestra's principal viola gave us a beautiful solo in Emmy Lindström's Serenad.
Power played two Dowland songs, Flow my tears and If my complaints could passions move, varying colours from verse to verse. He then gave a heartfelt performance of Britten's 'variations in search of a theme', Lachrymae. If the orchestra could sound mushy under Solyom's direction, it provided plenty of razor-sharp edges in Bernard Herrmann's Psycho Suite that followed.
In his symphony with solo viola Harold in Italy, Berlioz wanted the viola to represent an actual person. Power proved an eloquent facilitator of that wish, making it all about the sound of his instrument despite his strong physical presence. He started out standing with the solo harp during his first entry, and ended in the auditorium. There were technical feats – those sul ponticello arpeggios were as a light, fresh breeze – but Power brought soul, optimism and stature to Berlioz's radical work and tempered the orchestra's occasional overexcitement.
ANDREW MELLOR
Photo: Morgan Pålsson