Tim Homfray reviews the performance from London's Wigmore Hall on 22 November 2021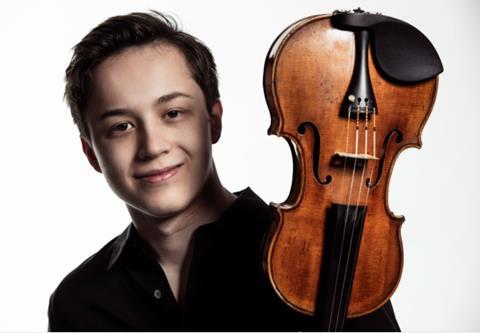 Johan Dalene opened this lunchtime concert with Ravel's Second Violin Sonata, his playing marked by elegant, legato bowing, and his tone enriched by a small, fast vibrato. He floated and swooped through the first movement, with pianist Nicola Eimer in gentle partnership, his elegiac tone occasionally giving way to snarling phrases on the G string. The central Blues movement was limpid with just a hint of swing, and Ravel's louche slides had an appropriate touch of decadence. In the streaming semiquavers of the final Perpetuum mobile Dalene was brilliant and effortless, light and full of energy.
In Rautavaara's Notturno e danza, written for a children's chamber music competition, Dalene played the long, legato phrases of the first movement with a floating, luminous tone, before skimming through the flickering Danza. In Prokofiev's Second Violin Sonata, Dalene and Eimer caught both the seeming naivety of the first movement, with its dreaming, easy-going opening, and the febrile, grotesque elements that follow. He skipped through the quavers of the scherzo but was biting as well, attacking the upward scales with venom before gently caressing the central poco più mosso with tenderness.
After the gentle meanderings of the Andante, the finale flickered with staccato dance, lyrical expression and earthy energy, all in perfect balance and performed with unassuming virtuosity.
TIM HOMFRAY
Photo: Mats Bäcker