Bruce Hodges hears the foursome perform at National Sawdust, New York, on 11 December 2020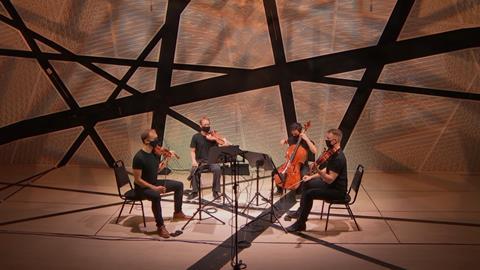 For the New Works Commission – an initiative created by National Sawdust – the fearless Jack Quartet presented a late-afternoon live stream hosted by composer Pamela Z, featuring works by ten young composers. Each work was between three and five minutes long.
Among the striking effects used during the hour were small bells attached to bow tips for Not-In-Between by Jessie Cox, who was inspired by space travel. Glissandos combined with breathy bow strokes triggering the bells, adding discreet tinkling ornaments.
Probing and melancholic, Gate's Closing by Eddie Codrington used flowing tonal lines as if uttered in a single breath – and seemed over too soon. Golnaz Shariatzadeh's Zir (below) constructed a 'narrative around open strings,' adding squeaky harmonics, sul ponticello bowing, unfettered arpeggios and lower strings exploited for their gravelly deliciousness.
Violinist Austin Wulliman mentored Nicholas Tran, whose Innocent Water combined high harmonics, sometimes muted, before a series of lunging chords appeared, as showy as peacocks. In Rurimi rwaAmai 'The Mother's Tongue' Tanyaradzwa Tawengwa found poetry from his mother's comments via WhatsApp over the past twelve years. Her pre-recorded voice led the way to a Haydnesque, fugal simplicity.
Perhaps understandably, some of the artists focused on politics. Nina Shekhar wrote Above the Fray as a reaction to the classical music industry cluelessly suggesting 'just play Bach'. The result was richly slow-moving, as if watching a globe gently rotate, with each musician ascending and descending in different tempi until the flickering ending. And in Surface Tensions, Rajna Swaminathan explored 'uncertainties, vulnerabilities, and queer politics' during the pandemic. Searching, questioning lines wanted to resolve, but were interrupted.
But I'm still haunted by At any rate – II. 'what remains'. Inspired by conspiracy theories, Daniel Sabzghabaei deployed microtonally inflected Persian lines, bits of vocalising, and a turntable with a record emitting scratchy white noise. At the end, in a theatrical sequence, each member quietly stopped and exited, eventually leaving cellist Jay Campbell to turn off the record and walk offstage.
BRUCE HODGES