Charlotte Gardner attends the performance of Barber, Copland, Carlos Simon, Jennifer Higdon and Jessie Montgomery at London's Wigmore Hall on 20 June 2023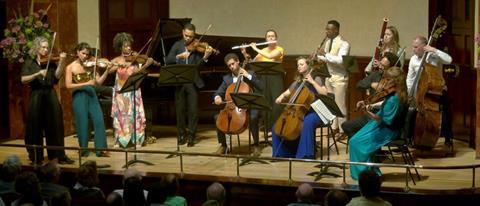 Hilary Hahn concluded her Wigmore Hall residency with a concert of all-American repertoire for diverse forces. First was Carlos Simon's piano trio, be still and know (2015) with pianist Tom Poster and cellist Tony Rymer, its serenely reflective wide-spaced chords and polytonality – capped by a single, dissonant, questioning, piano 'plink' – mesmerisingly referenced Copland's Appalachian Spring.
Next, Jennifer Higdon's Dark Wood (2001) was a feisty cornucopia of extended techniques pitting Amy Harmen's bassoon against Poster, Hahn and cellist Laura van der Heijden. Then Barber's String Quartet, Rymer back on cello, with violist Juan-Miguel Hernandez and Elena Urioste on second violin received a reading that reached fever pitch at the Adagio climax.
Jessie Montgomery's Starburst (2012) – all the above strings players plus violinists Melissa White, Nathan Amaral and Graham Mitchell, violist Rosalind Ventris and bassist Graham Mitchell – sounded as per its title. Then finally Poster returned, plus clarinettist Carlos Ferreira and flautist Jane Mitchell, for Appalachian Spring; this was a performance full of polished warmth, generosity and a palpable pleasure in the music's beauty and energy. There had been a crescendo of cheers all evening, but now came a rare Wigmore Hall standing ovation, answered by a tutti encore – Poster's own Moon River arrangement, despatched with Hollywood-esque glossiness. In short, what a night!
Charlotte Gardner