Peter Quantrill hears the group's full Shostakovich cycle at London's Kings Place on 29 and 30 October 2022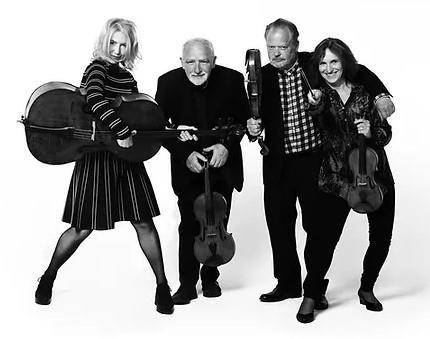 All 15 Shostakovich quartets in seven concerts over a weekend: on paper it looks like a feat of endurance, for listeners as much as performers. In the event, though (and event it assuredly was), the cycle served to celebrate not only the 50th anniversary of the Brodsky Quartet but also the perennially fresh invention of a composer who, like Haydn, seems to be most reliably inspired, and most fully himself, in the quartet medium.
On the first day in particular, with Quartets nos.1–9 packed into ten hours, details sometimes came and went, though the Brodsky players could always call upon a sweet-toned legato in those rare extended periods (in nos.1, 4, 6 and 7 especially) when Shostakovich allows himself and his players to relax. In any case, neither their two previous recorded cycles, nor these performances, have gone to extremes beyond those already marked out in the scores, and not a bar was played to be different for the sake of it.
Some frailty of line – though almost never intonation – could be expected from players nearer the end than the beginning of their careers. With their perilously exposed parts, however, the later quartets actively demand a tenacious hold onto bare rock, and here the advantages of the Brodsky's relatively egalitarian balance came increasingly to the fore. With leader Krysia Osostowicz having joined only last year, perhaps the democratic nature of Shostakovich's four-part hymn and song writing (the opening of the Fourth, say, but also the closing rite of the Eighth) was all the more sonorously woven into one garment.
With nos.10 and 15 late on Sunday afternoon, it seemed that the Brodskys had saved the best until last. The dark but playful humour of the Tenth came up as fresh as a Gogol short story, its brutal scherzo almost comically savage. Second violinist Ian Belton launched the 15th's long opening Elegy with a simplicity mellowed and bleached by the decades (his own and the composer's). As the others entered one by one, they did so in matched tones neither laden with funereal vibrato nor italicised by minimalism. In fact the wonder was how six slow movements seemed to pass in a trice, with none save the funeral march feeling especially slow, but rather like a Russian updating of Haydn's Seven Last Words.
Pre-concert introductions with the Shostakovich scholar Elizabeth Wilson had already enriched an appreciation for Shostakovich the inveterate quartettist and Classicist, but here, finally, he seemed to stand alongside his Viennese forebears, with an economy of means that felt touched less by infirmity than by experience, and genius.
PETER QUANTRILL