Seamless cohesion in commendable Bach arrangements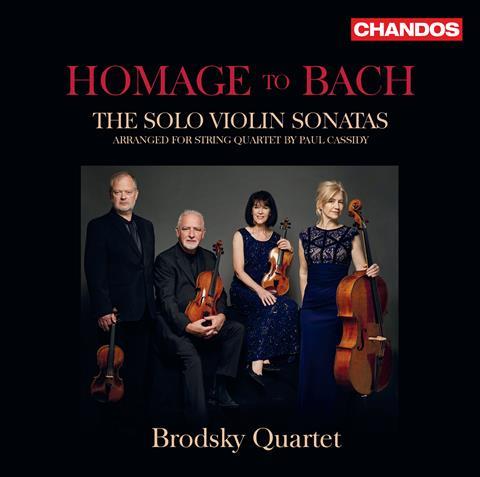 The Strad Issue: August 2021
Description: Seamless cohesion in commendable Bach arrangements
Musicians: Brodsky Quartet
Works: Bach: Solo Violin Sonatas: in G minor BWV1001, A minor BWV1003, and C major BWV1005
Catalogue number: CHANDOS CHAN20162
Brodsky Quartet violist Paul Cassidy here extends his adept arranging skills to his 'bible', using techniques such as registral change, textural contrast and varied instrumentation of some repeated sections to reveal these sonatas in fresh guise. Chandos's church recordings are very reverberant and their close miking picks up the ensemble's sniffing and adversely affects its perceived dynamic range (notably in BWV1003's final Allegro); nevertheless, the Brodskys take pains to whisper much of BWV1003's Andante and demonstrate commendable cohesion, balance and blend throughout.
They pass phrases and thematic fragments seamlessly from one to the other, particularly in BWV1001's Presto, and their accounts of the fugues are models of structural reflection, in which voice leading is clearly delineated. Pizzicato adds lightness to some episodes and underpins the opening of BWV1003's Andante and BWV1005's Largo, most pedal points are dramatically ramped up, and violist and cellist combine into a veritable rhythm section in BWV1005's finale.
Tempos are generally apt, but the opening adagios of BWV1001 and 1003 feel too measured, despite Gina McCormack's occasional quasi-improvisatory forays, and the Presto of BWV1001 seems too steady. However, despite the new perspective offered, these accounts will always be more of a supplement than a staple of listeners' Bach diet.
ROBIN STOWELL