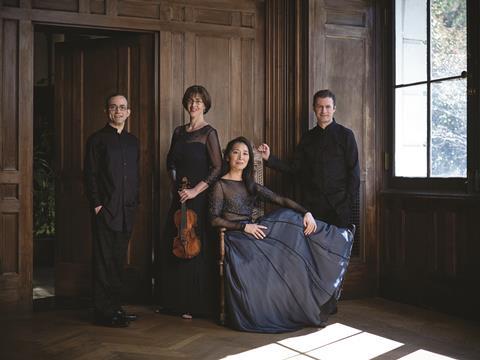 Mozart's quirky String Quartet in E flat major K428 was brought to life by the Brentano Quartet (below), playing with tremendous love, wit and charm. I appreciated the leading from the cello in the Allegro non troppo and the way the quartet created a spacious sense of time. In the Andante con moto, they took Mozart's winding, chromatic line and bestowed it with extraordinary grace and elegance, and time seemed to expand and stand still. The following movement was imbued with jovial, almost naive youthfulness in the crisp articulation, of left hand as well as bow, and the Allegro vivace sparkled with poise and playfulness.
Composer Matthew Aucoin (b.1990) gave an articulate and helpful introduction to the New York premiere of his String Quartet (2019), a piece inspired by the idea of attention (a lack of it; obsessive, destructive attention; a meditative focus). The Brentano's utter commitment to the piece was impressive and they gave a compelling performance, drawing the audience into the distracted focus of the first movement which was created by repetitions and jarring discordant harmonies. The final movement opened with harmonics which gave way to lilting, syncopated chords that ran beneath a beautifully played cello solo. This blossomed into a tender and very moving viola-and-cello duet before the violins took over the melody.
Ravel's String Quartet finished the programme, and there's little else to say except to express tremendous praise. The Brentano played with pristine intonation and just the right amount of intensity, and their playing of the melodies was absolutely beautiful. The Très lent was exceptional. Never afraid to take risks, first violinist Mark Steinberg played with a whisper-soft piano, and yet there was still room for texture beneath his lines: how is it that he plays with such tenderness, so softly, and yet with such pristine articulation? The final movement was packed with turbulent energy but never at the expense of melodic clarity or rhythmic integrity.