Peter Quantrill visits London's Wigmore Hall for the performance on 22 February 2020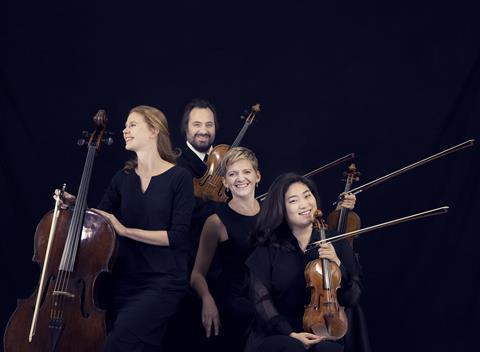 Every now and then, one hears a performance of Haydn that lands like a craft from another planet. Under the fingers of the new-look Artemis Quartet, op.20 no.2 had all its airs and graces: a gently Italianate sway to the opening movement, a recitativo freedom to the fantasia, a silken thread running through the Minuet's rustic harmonies and an aristocratic refinement to the final fugue. Yet it sounded as odd and as new as it must have done in 1772: something to do with a true pianissimo, also the subtly capricious leadership of Suyeon Kim and the prominent but not dominant bass part played by Harriet Krijgh.
Kim and Krijgh joined less than a year ago, yet they fit seamlessly within the 30-year-old Artemis aesthetic of making all the music they play modern. Following this revelatory Haydn, though, the UK premiere of Jörg Widmann's seventh and latest quartet came as a disappointment. The second of his 'studies after Beethoven', the Seventh offers familiar motifs and harmonies – from Fidelio and symphonies as well as the quartets – through an ingenious if quickly predictable device of detachment and reassembly into a two-movement, 25-minute structure.
The Artemis performed it here with a brio which at least whetted the appetite for the real thing after the interval: a supremely polished, almost manneristic account of op.130. With Vineta Sareika leading, the players integrated a wide variation in vibrato within an approach which again served to emphasise the work's nervous tension, far-reaching transformation of its Haydnesque models and ever-challenging modernity, and not only in the closing Grosse Fuge.
PETER QUANTRILL