Bruce Hodges hears the performance of Brett Dean's Cello Concerto at David Geffen Hall on 31 January 2020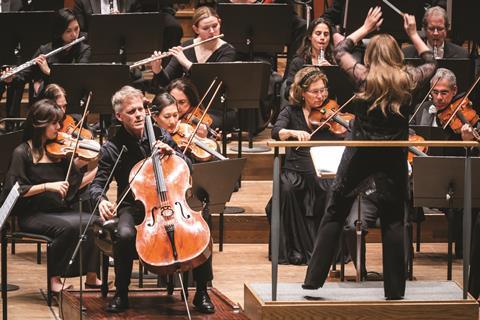 When an audience stands to cheer a new work it's exciting to be in the room, and that's exactly what happened after cellist Alban Gerhardt put the final, quizzical flourish on Brett Dean's 2018 Cello Concerto, with lively contributions from Simone Young and the New York Philharmonic. Its five parts (without pause) show off the soloist amid subtle and striking timbres.
Gerhardt has internalised Dean's intricacies, and his often-hushed volume level. After an alluring opening solo, the cellist was joined by the winds – as well as percussionists rustling sheets of plastic bubble wrap. In the second section, the cello pulsed in sighing, descending lines over sustained strings, harp, piano – and a Hammond organ.
In the feverish central portion, twitchy violins swarmed, threatening to engulf the soloist, and the following section continued some of that furore. But calm reigned in the fifth sequence, with the cellist drawing the bow in circular motion, sensuously soft, over distant rumbling in the cellos and double basses. Amid flurries of orchestral trills, the cello line gradually wound down to the lonely closing melody. After an ovation for Gerhardt, the audience roared for Dean as he strode on stage – a rare occurrence for a premiere.
BRUCE HODGES
Photo: Chris Lee