Mozart concertos, intriguingly played on the composer's own instrument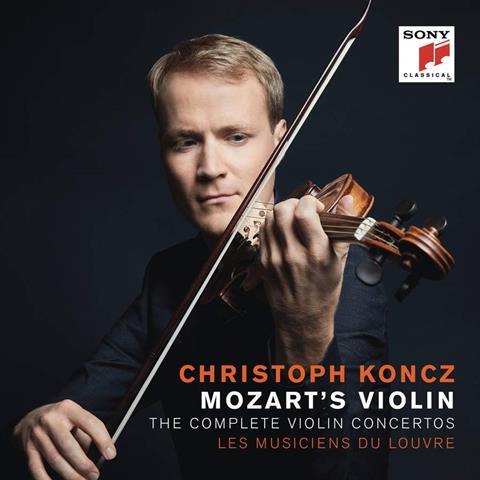 The Strad Issue: January 2021
Description: Mozart concertos, intriguingly played on the composer's own instrument
Musicians: Christoph Koncz (violin) Les Musiciens du Louvre
Works: Mozart: Complete Violin Concertos
Catalogue number: SONY CLASSICAL G010004353645E (2 CDs)
This set of the complete Mozart Violin Concertos has a unique selling point: Christoph Koncz is playing Mozart's own violin, made by the Klotz family of Mittenwald in the early 18th century and still in its original (un-modernised) condition.
Koncz's playing is often light, especially in the B flat major First Concerto, where the passagework trips blithely along. In the second movement he is gentle and expressive through the simplest of means, and the third bubbles along as he skips neatly through the semiquavers. The cadenzas are all his own, and are simple enough here; later they get more elaborate, but they are always stylish and effective.
The first movement of the D major Second Concerto is full of rhythmic energy; the second has some pure, ethereal high playing, which shows off the violin beautifully, and the final Rondeau sparkles. In the G major Third Concerto, Koncz is warmly expressive, using some light vibrato and eloquent bowing with crisp rhythms and dynamic contrasts. There is some fine oboe playing here as well: the orchestra throughout is expressive and responsive to the soloist. In the second movement Koncz gives a masterly demonstration of melodic playing.
The central Andante cantabile of the Fourth Concerto has a similarly majestic flow, and the finale has happy simplicity. In the A major Fifth Concerto, Koncz is nimble in the first movement and lovingly caresses the long lines of the second; there is warmth and drama in the Turkish section of the finale. The recording is clear and focused, although the spacious acoustic is not ideal.
TIM HOMFRAY