Performances of two cornerstone concertos that may divide audiences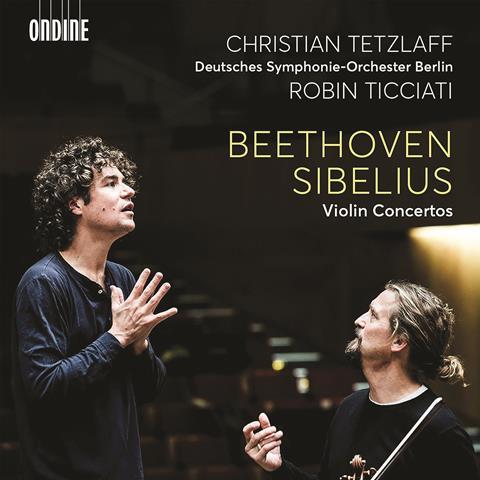 The Strad Issue: November 2019
Description: Performances of two cornerstone concertos that may divide audiences
Musicians: Christian Tetzlaff (violin) Deutsches Symphonie-Orchester Berlin/Robin Ticciati
Works: BEETHOVEN Violin Concerto in D major SIBELIUS Violin Concerto
Catalogue Number: ONDINE ODE 1334-2
Exquisite or infuriating? Christian Tetzlaff's Beethoven Concerto has the potential to be either but with repeated listening I am erring towards the latter. It is a curious performance: considered to the point of revelatory but strangely joyless and almost fatally lacking a through line.
Sometimes the performance feels like a museum piece, a progression from 'chamber music writ large' through to full-on, manicured introversion, once removed from the listener. That styling can allow the performance to twist suddenly into something wonderful, as in the modulation of the theme at 10'40" in the first movement, or the recap later on, referred to by Tetzlaff in a knotty booklet conversation as a 'deus ex machina' moment and communicated vividly here. Elsewhere, it renders the jokes in the finale coy and tense, with little of the inherent pleasure. Flipping Beethoven's piano arrangement of the first-movement cadenza, featuring a duet with drums, only pre-empts the severity.
Ticciati's grand orchestra is a more appropriate partner in the Sibelius, and makes a majestic sound. But from the soloist's perspective, there is frustration again. Tetzlaff's figurations are often frantic, which erases the material ambiguity that lies at their heart – one of the miracles of the music's evolutionary processes. This is a blustery, stormy account but doesn't adjust its colouring and reactivity, as some others have done when taking such a windblown approach (notably Sergey Khachatryan).
For this score, we are made aware of an awful lot of elbow grease. The end of the Allegro feels petulant. The finale runs away with itself and winds up munched and garbled. There are ways of finding a contrast with the slow movement – Tetzlaff should be applauded for taking it at a true Adagio molto, but it lacks all-important strain – without sounding so contrary. If you sense those things won't grate as much for you as they did for me, then at least prepare to have one finger on the volume button: the sound is crystalline but the dynamic range is huge.
ANDREW MELLOR