New arrangements result in gorgeously warm and intimate music making
THE STRAD RECOMMENDS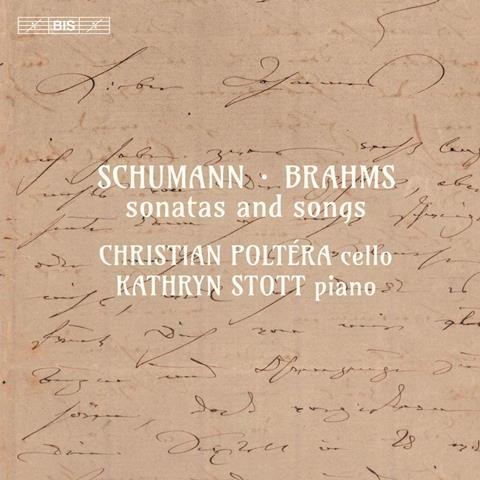 The Strad Issue: April 2020
Description: New arrangements result in gorgeously warm and intimate music making
Musicians: Christian Poltéra (cello) Kathryn Stott (piano)
Works: R. Schumann: Sonata no.2 in D minor op.121 (arr. Poltéra); Intermezzo (from 'FAE' Sonata). Brahms: Scherzo (from 'FAE' Sonata); Sonata no.3 op.108 (arr. Poltéra); Wie Melodien zieht es mir. C. Schumann: Sie liebten sich beide op.13 no.2
Catalogue Number: BIS-2167 (SACD)
A warm intimacy infuses this beautifully recorded CD. It is as though you are sitting next to the hearth with Schumann's friends, experiencing a buzz of excitement as the movements of the 'FAE' Sonata are revealed. Then Christian Poltéra takes to the stage and shows Brahms his cello arrangement of the Third Violin Sonata. Brahms reflects on why he didn't think of doing it himself, as it works so well. That is always the litmus test in any arrangement: how does the suit of clothes fit the new instrument? Perhaps in its different guise, the Brahms misses some of the searing intensity of the violin's higher range, but instead we have the honeyed warmth of the cello registers that work equally effectively in the tender Adagio and the impassioned finale.
The Scherzo from the 'FAE' Sonata is a more familiar item for cellists and has successfully been recorded several times. In this performance the transition from violin original to cello is handled with ease. Naturally it is a great help that the interpreters possess such a wonderfully nuanced palette and an armoury of sheer technical brilliance to generate the compelling narrative.
Schumann's Second Sonata transfers equally well to the cello, but is possibly a weaker composition, particularly in the obsessive rhythmic interplay of the outer movements. Nevertheless it, too, is performed with great ardour and exemplary clarity of texture, as is Schumann's deeply affecting Intermezzo from the 'FAE' Sonata. A transcription of a song by Clara Schumann in this enterprising disc elegantly and melodiously concludes the evening by the fireplace. But the experience lives on with these invaluable new arrangements, now added to the cello's domain.
JOANNE TALBOT