Teenage violinist's insightful and original debut augurs well for the future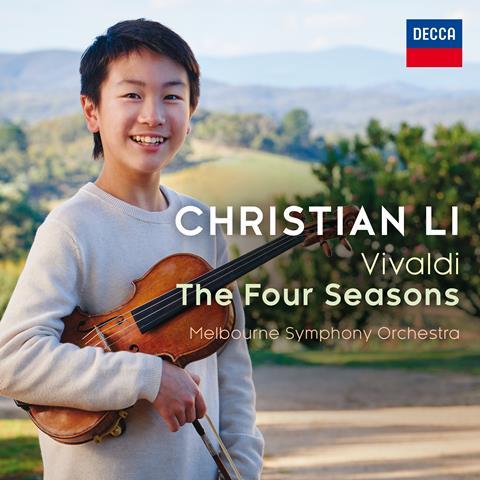 The Strad Issue: September 2021
Description: Teenage violinist's insightful and original debut augurs well for the future
Musicians: Christian Li (violin) Timothy Young (piano) members of the Melbourne Symphony Orchestra
Works: Vivaldi: The Four Seasons; and music by Zili, Kreisler, Massenet and Bazzini
Catalogue number: DECCA 485 1824
Still aged only 13, Christian Li combines technical savvy and interpretative insight to a remarkable degree in one so young. Violin prodigies often struggle to find their own personal voice, yet blessed with a winning combination of the 1737 'Paulsen' Guarneri 'del Gesù' and a François Peccatte bow, Li already produces a highly distinctive tonal fusion of beguiling warmth and clarity. His is not a sound that blows your socks off in the manner of the young Michael Rabin or Shlomo Mintz, but is closer to the cantabile eloquence of Cho-Liang Lin or Midori.
Li also has strong, individual ideas about even an old warhorse like The Four Seasons, which extend not only to his own playing, but his talented band of Australian musicians, who respond with alacrity to his every whim and fancy. Li uses an additional lute continuo throughout (both harpsichord and lute are given improvisatory freedom and are captured boldly by the full-throated recording) and employs a wide range of evocative, colouristic devices, including a suitably icy sul ponticello in 'Winter'.
However, it is in the four 'encore' items with pianist Timothy Young that Li really shows his mettle, capturing an old-world charm in Kreisler's Tambourin chinois to rival even Henryk Szeryng, and a playful virtuosity in Bazzini's La ronde des lutins (effortless arco and harmonics in tenths, slightly less poised left-hand pizzicato) that augurs well for the future.
JULIAN HAYLOCK