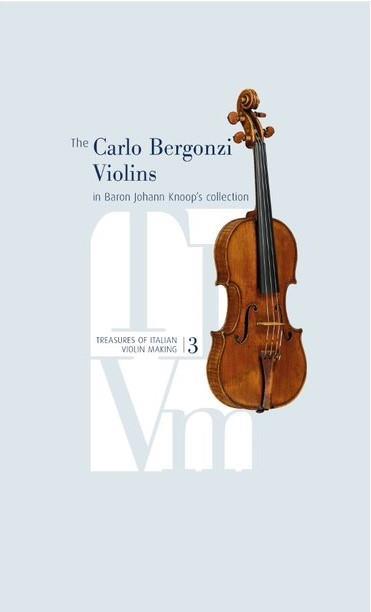 The Carlo Bergonzi Violins in Baron Johann Knoop's Collection
Ed. Andrea Zanrè
112PP ISBN 9788890719455
Edizioni Scrollavezza & Zanrè/Jan Röhrmann €150
The third in this impressive series of violin analysis books is a triumph, filled with fascinating chapters and detailed high-resolution photographs and images from various scanning techniques. This book focuses on two Carlo Bergonzi violins that were once in the impressive collection of Baron Johann Knoop: the c.1734 'Kreisler, Perlman' and the 1735 'Earl of Wharncliffe, Knoop, Landau'. The list of contributors reads like a who's who of violin experts who have penned a masterly series of essays tackling on one hand the cultural and social aspects of the Bergonzis and, on the other, a deep analysis of the technical features of the two violins. The famous collector/dealer Count Cozio obviously admired Bergonzi, being one of the first to champion his work, and Zanrè's opening chapter provides insights on his late 18th-century perspective and analysis (not quite premier league as it happens, but very good). We learn how Cozio wasn't above assisting these instruments north of the Alps while in his care, with the assistance of an inserted Stradivari label! His apparent disdain for Carlo's longish corners led him to have them reshaped – albeit in a skilled manner. This reshaping, while sad, has nevertheless assisted in some helpful conclusions when considering the provenance of Bergonzi's work.
Like the previous editions in the series, this is a large-format book that packs an incredible wealth of reference material within its 111 pages. In his foreword Peter Biddulph gives us some background on the Dextra Musica foundation's wonderful collection of instruments, including the 'Kreisler, Perlman'. Later in the book John Dilworth explores the collection's other instruments in some detail thus putting our two Bergonzis in context. Christopher Reuning's fascinating essay considers these two instruments alongside a glorious example of a Michele Angelo Bergonzi violin from 1744 for an interesting comparison.
Modern imaging technologies help the writers explore the possibility that these violins could have been made on the only two extant Bergonzi (attributed) walnut moulds. Peter Ratcliff delves deeply into the dendrochronology of the two violins. Andrew Fairfax thoughtfully considers the varnish, aided by mouth-watering close ups of the best bits. Carlo Chiesa contributes a thoughtful, fascinating survey of Carlo's life and times, piecing together the close social links with Vincenzo Rugeri. Even though there is no evidence that Carlo actually worked for Vincenzo it seems likely, and certainly his early work suggests this.
This edition is a massive contribution to the field of violin study and will be well referenced and used in the coming years. In case you are still unsure of what an incredible bargain it is, at the back of the book is a link to a host of superb downloadable resources including the micro-CT scans, with more than enough information for luthiers to make and print off accurate templates. This is not only extremely generous of the authors, but it helps preserve the instruments by negating the need for more probing, casting, measuring and tracing from future violin makers. A brilliant achievement.
PHILIP BROWN