Julian Haylock reads Todd Shimoda's novel imagining what might have happened if Antonio Stradivari had met Sir Isaac Newton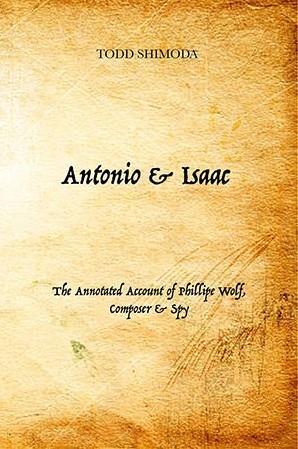 Antonio & Isaac: The Annotated Account of Phillipe Wolf, Composer & Spy
Todd Shimoda
412PP ISBN 9781956358001
Shimoda Works $28
At the heart of Todd Shimoda's latest historical novel is the coming-together (at least by proxy) of two iconic geniuses: Cremona-based Italian luthier Antonio Stradivari, creator of some of the finest instruments ever made, and Lincolnshire-born scientific genius Isaac Newton, who redefined the laws of physics before moving to London to take up his post as warden, and later master, of the Royal Mint.
Needless to say, Stradivari and Newton have very different ideas on how to make stringed instruments. For Stradivari, the sonic qualities of the wood are of paramount importance, with each instrument tailor-made to enhance its natural properties. 'I have been humbly making violins and other instruments for over 40 years,' he points out, 'and have never made the same instrument twice.' Not surprisingly, Newton finds this empirical approach far too vague and insists that like any other problem, it must be possible to find a logical solution, requiring the same 'deep thought and rational experimentation as the creation of any scientific instrument'. Once the perfect template is created, it could then be reproduced time and again.
Bringing these two giants of the Enlightenment era together is Austrian composer Phillipe Wolf, who is in love with Newton's violinist niece Catherine. On the lookout for a violin superior in penetration to the Amati he has just invested in, and on the basis of attempting to compose the perfect piece for the perfect violin, Wolf acts as a go-between, travelling between London and French-controlled Cremona, while leading a double life as a spy investigating a vicious counterfeit ring on behalf of the Royal Mint. Without revealing the outcome of either major plot line, it is fair to say that Shimoda will keep you guessing as he skilfully manipulates the story between biographical fantasy and action thriller.
JULIAN HAYLOCK