Anticipated album where violinist fulfils solo Bach ambitions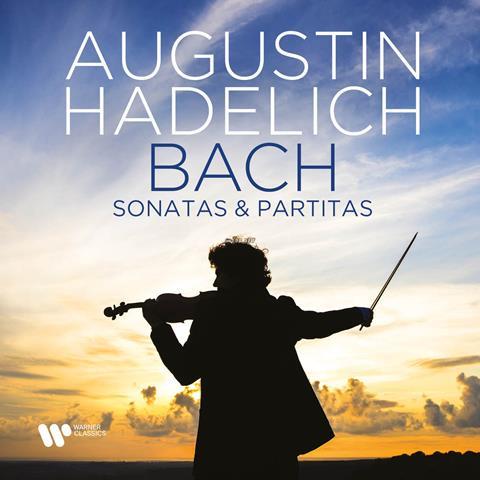 The Strad Issue: June 2021
Description: Anticipated album where violinist fulfils solo Bach ambitions
Musicians: Augustin Hadelich (violin)
Works: Bach: Sonatas and Partitas for solo violin BWV1001–1006
Catalogue number: Warner Classics 9029504874 (2 CDs)
For Augustin Hadelich, one positive outcome of the Covid-19 pandemic has been the opportunity to immerse himself in Bach's solo works and fulfil his dream of recording them. The results both disappoint and excite. Hadelich nods towards historically informed performance by employing a reproduction Baroque bow, but his contemporary right-hand technique leads to some aggressive, unhistorical execution, notably of the multiple-stopping in the sonatas' fugal movements and the Second Partita's monumental Ciaccona. Further, ornamentation of repeated sections is minimal, appropriate rhythmic alteration fails to feature and some tempos are seriously questionable.
The first movements of the First and Second sonatas, for example, are freely interpreted but lose momentum through over-expansiveness, and the breakneck speed and sewing-machine approach to the First and Third Sonatas' finales, the Third Partita's Preludio and some of the First Partita's doubles seem to transform them into mere finger dexterity exercises.
The above cavils aside, Hadelich's left-hand technique is commendably secure and he produces from his 1744 'Leduc, ex-Szeryng' Guarneri 'del Gesù' violin opulent sonorities that are not overwrought with vibrato. He replicates the buoyancy of dance movements such as the Third Partita's Gavotte en rondeau with suitably light articulations, delineates contrapuntal voicing clearly and shapes melodic lines elegantly, especially in slow movements such as the Sarabandes of Partitas 1 and 2 and the Third Sonata's opening Adagio.
Structural detail and the implications of the underlying harmony are also intelligently conveyed throughout, along with a finely tuned sensitivity to dynamic nuance. The recording has a pleasing intimacy, clarity and warmth.
ROBIN STOWELL