Mature and gripping accounts from a young ensemble that's streets ahead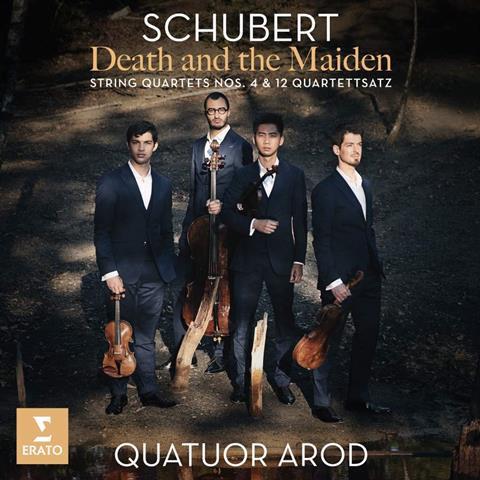 THE STRAD RECOMMENDS
The Strad Issue: January 2021
Description: Mature and gripping accounts from a young ensemble that's streets ahead
Musicians: Arod Quartet
Works: Schubert: String Quartets: no.14 in D minor D810 'Death and the Maiden', no.4 in C major D46; Quartettsatz D703
Catalogue number: ERATO 9029517247
The Arod Quartet is already an ensemble worth fighting to hear. Its astonishing maturity in Schubert's 'Death and the Maiden' quartet provides confirmation, if it were needed, that what we have heard thus far has been merely an hors d'oeuvre. Internal and external balance are exceptional, use of vibrato is extremely well judged and the establishment and re-footing of crescendos in sequence is uncannily mathematically precise. It is all captured in a detailed, close but spacious recording.
This is a dark reading of the piece that doesn't sacrifice Schubert's constant answering of despair with eloquent lyricism. There is more contained anger, but that only makes the moments of resignation more powerful. The statement of the song theme is ghostly-light but the delving down and loosening up in the first variation underlines just how meaningful a statement that was; what follows is extremely elastic and unspeakably quiet at the end. The Scherzo is unusually dark and weighty; again, vibrato is never a given.
Schubert's D703 fragment is a good vehicle for the strikingly mature playing of first violinist Jordan Victoria, although he is not afraid to rage at the phrase ends just as the whole ensemble lunges into chosen corners. Reservations creep in when it comes to the Arod's D46. As in their Mendelssohn recording, there are instances in which the insistently brittle textures and nervous energy work against the natural flow of this more innocent music. The music might seem less frivolous if they let it speak out – going back to basics on the meaning of 'Andante', for example. The paradox is, this young ensemble is already streets ahead.
ANDREW MELLOR