Chopin cello music and arrangements in spellbinding performances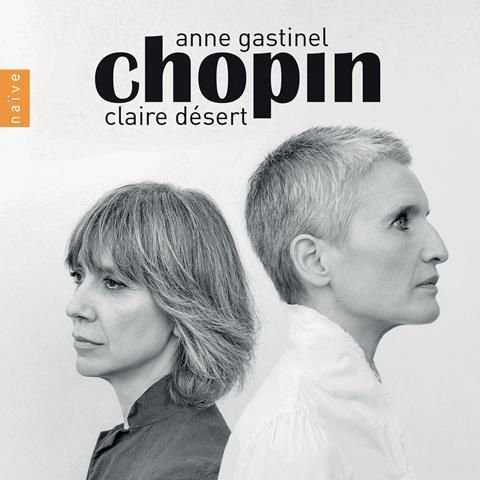 THE STRAD RECOMMENDS
The Strad Issue: November 2021
Description: Chopin cello music and arrangements in spellbinding performances
Musicians: Anne Gastinel (cello) Claire Désert (piano)
Works: Chopin: Cello Sonata; Introduction and Polonaise brillante (arr. Gendron); Grand duo concertante sur des thèmes de Robert le Diable; Nocturne in E flat major op.9 no.2 (arr. Popper); Nocturne no.20 in C sharp minor (arr. Piatigorsky)
Catalogue number: NAÏVE V5467
Two of Chopin's nocturnes, in arrangements by great cellists of the past, bookend this finely crafted album. The first is played with such elegance, its arrays of grace notes including whole runs of magical harmonics, that the listener is left eagerly anticipating more.
In the Sonata that follows, Désert and Gastinel give Chopin's music plenty of space. Theirs is a fully Romantic interpretation, lavish but with moments of reflection. The Scherzo is well articulated and the rubato in its trio exquisite, particularly where the players hold back and then let rip. Poetic phrasing, the lovely, liquid sound of Désert's pianism, some beautiful playing high on Gastinel's Testore cello's G and D strings and the disc's well-balanced and intimate sound combine to make the Largo a thing of beauty.
The Sonata's dedicatee, Auguste Franchomme, was largely responsible for the cello part in the Grand Duo, which is perhaps why as a piece it fails to charm in the same way as the Introduction and Polonaise brillante. Played with Gastinel's characteristic poise, however, even the most fiendish double-stop high-tessitura triplets come trickling down as if they're the easiest thing in the world. The concluding C sharp minor Nocturne, with its finely drawn melodic line and grace notes floating like feathers, left me spellbound.
JANET BANKS