Classy, light take on sonatas by Bach and his contemporary countryman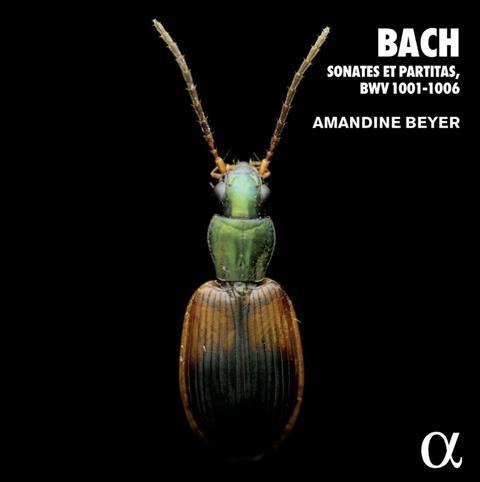 The Strad Issue: September 2021
Description: Classy, light take on sonatas by Bach and his contemporary countryman
Musicians: Amandine Beyer (violin)
Works: Bach: Sonatas and Partitas for solo violin BWV1001–1006. Pisendel: Sonata for Solo Violin
Catalogue number: ALPHA CLASSICS ALPHA610
For some reason this set begins with the First Partita rather than the usual First Sonata, in which the opening Allemande displays many of the qualities of what follows. It is spacious and measured, with much subtlety of phrasing contained within its gentle simplicity. After the similarly unhurried Double the Courante is deft and fleet, but nonetheless using a considerable dynamic range. The Sarabande is meditative and quiet, the triple- and quadruple-stops rippling nicely – there is no chordal crunching here. The bourrée is sprightly and detached. This general lightness of touch persists through the set.
The opening grave of the A minor Sonata is lucid and intimate, and the great Fugue, like its cousins in the other two sonatas, has great shape and purpose maintained through its huge span, with exemplary clarity of counterpoint and balancing of parts. The Andante is masterly, with its beautifully moulded melody and steady pulsing quaver accompaniment. The Allemande, Courante and Gigue of the D minor Partita all sparkle, their contours fluidly shaped. In the great Chaconne there is a sense of organic growth and increasing purpose and energy before it relaxes into the warmth, and occasional drama, of the D major section. There is articulate lyricism in the Largo of the C major Sonata, and profound meditation in the Adagio of the G minor. The central movements of the E major are like courtly dances.
Pisendel's Sonata is extrovert and entertaining, with some cheerfully exhibitionist double-stopping. Beyer is always technically superb. The recording is clean with a touch of resonance.
TIM HOMFRAY