Persuasive performances can't lift unmemorable music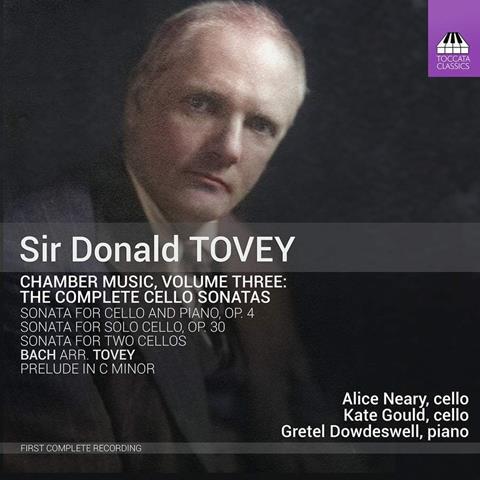 The Strad Issue: October 2022
Description: Persuasive performances can't lift unmemorable music
Musicians: Alice Neary (cello) Kate Gould (cello) Gretel Dowdeswell (piano)
Works: Tovey: Sonata for two cellos in G major; Sonata for solo cello in D major op.30; Sonata for cello and piano op.4. Bach: Prelude in C minor BWV999 (arr. Tovey)
Catalogue number: TOCCATA CLASSICS TOCC 0497
Donald Tovey is best known for his editions of core repertoire and perceptive essays on music – a form of analysis that, despite being somewhat old-fashioned, still has much currency today. His own compositions display structural fluency and are cast largely in a Brahmsian late-Romantic language. All the music here, while pleasant, remains distinctly unmemorable, bar the delightful arrangement of Bach's Prelude in C minor.
The Sonata for two cellos was written for Casals and his then partner, the cellist and Latin beauty Guilhermina Suggia. Both Casals and Tovey were evidently smitten by her, and, following this rivalry, a coolness developed between the two and Casals didn't promote the work. However, this substantial piece could usefully serve as an aid to students' sense of ensemble; despite an enthusiastic and energetic rendition from Alice Neary and Kate Gould, it cannot be regarded as a major addition to the repertoire.
The remaining two sonatas are musically assured, if lacking in individuality, with Neary offering a committed performance of the Solo Sonata, particularly enjoying its expressive elements. But in comparison with other works for solo cello from the first half of the 20th century, this offers relatively little. Despite my misgivings, Tovey's cello music, extensively annotated in William Melton's excellent booklet notes, does offer an intriguing glimpse into the byways of the English tradition at the end of the 19th century, a time when it was still heavily influenced by German music.
JOANNE TALBOT