Published in the online journal Plos One, the study was conducted by Daniel Chitwood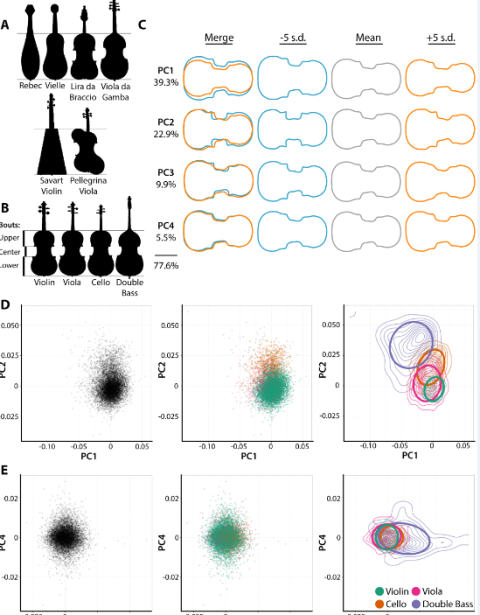 A new study into the development of the violin over the past 300 years has empirically demonstrated the importance of Stradivarius to the evolution of the instrument's form. Published in the online journal Plos One, the study was conducted by Daniel Chitwood, a researcher at the Donald Danforth Plant Science Center in St Louis, Missouri. Utilising the same methods he used to analyse the architecture of plant species, Chitwood compared the outlines and f-holes of more than 4,000 violins. He then created scatterplot diagrams that separated the individual instruments by luthier, and grouped the instruments into clusters according to the makers' lineages and regions.
'Violin shapes originating from multi-generational luthier families tend to cluster together, and familial origin is a significant explanatory factor of violin shape,' Chitwood explained in his paper. 'Clustering of averaged violin shapes places luthiers into four major groups, demonstrating a handful of discrete shapes predominate in most instruments.'
Chitwood named the four main groups after their most famous members: Maggini, [Nicolò] Amati, Stainer and Stradivarius. The study's findings show that instruments in the Maggini category 'have many cello and double bass-like qualities relative to other clusters, with a broad lower bout and shallow centre bouts that are distally displaced'. Violins of the Stradivarius cluster, which comprise the largest group in the study, 'are defined by a wide lower bout', whereas those in the Stainer cluster 'are defined by a less defined distal edge of the centre bout'. The Amati cluster includes Stradivari's student Carlo Bergonzi, who was said to have struck out his own violin outline, as Chitwood notes.
In his conclusion, Chitwood draws a parallel with the development of the violin form and his other research into plant species: 'Perhaps not so surprising for an object crafted by living organisms, themselves subject to natural laws, the inheritance of violin morphology was influenced by mimicry, genetic lineages, and evolved over time.'
Subscribe to The Strad or download our digital edition as part of a 30-day free trial. To purchase single issues click here.