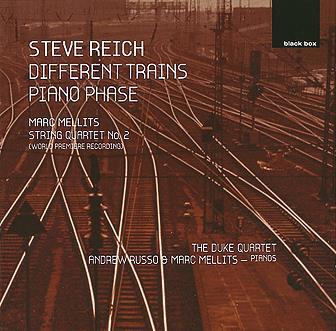 The Strad Issue: January 2006
Musicians: Duke Quartet, Andrew Russo (piano) Marc Mellits (piano)
Composer: Reich, Mellits
The complexity of bringing together a live quartet with a pre-recorded tape containing voice, three string quartets and train sounds is hidden away in a lucid, wonderfully detailed and transparent performance of Steve Reich's Different Trains from the Duke Quartet. The story behind the work began with Reich's frequent journeys between divorced parents, and it is the repetitive nature of the train sounds that form the basis of a score founded on Minimalism.
It requires ferocious concentration from the Duke, since the pitch and tempo of the tape are an integral part of the music; and the musicians' playing has that adrenaline-powered tenacity that perfectly combines the hypnotic and frenetic qualities of the work. The one drawback is the loss of detailed words on the tape.
Marc Mellits is a protegé of Reich, but his view of Minimalism is very different, with melodic invention growing out of rhythmic patterns to create a rich mosaic of sound. His Second String Quartet is readily attractive and accessible, the four short movements well contrasted, though it does require the Duke's immaculate intonation and unfailingly precise balance between instruments to make its full effect. I particularly enjoyed the players' outwardly funky view of the second movement and their jazzy finale.
Completing the disc, Reich's Piano Music takes Minimalism to the extreme, as the persistent driving rhythm tests one's appetite for aural endurance.
It now seems to be taken for granted that modern quartet music needs close microphones, and this disc is no exception with the lack of air around the sound becoming rather tiresome.
DAVID DENTON