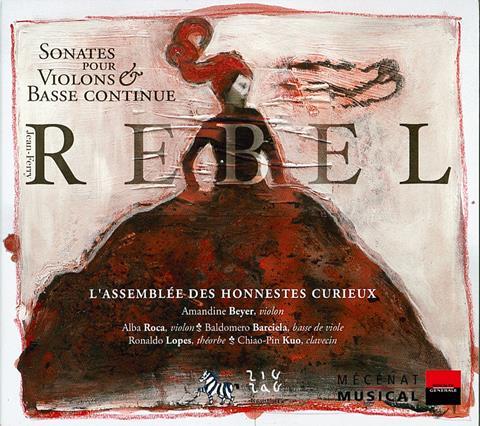 The Strad Issue: January 2006
Musicians: Amandine Beyer (violin) Assemblée des Honnestes Curieux
Composer: Rebel
Written around 1695, these sonatas emanate from two collections published in 1712 and 1713. They demonstrate Rebel's absorption of the Italian style and highlight his experimental, often chromatically bold, musical language.
These players offer intelligent, idiomatic and often brilliant performances. In the sonatas for single violin 'interspersed with several solos for viol' (1713), Amandine Beyer is a neat and sensitive violinist with a secure technique, clear and sonorous tone and a discreet approach to ornamentation, as evidenced in the Légèrement of no.5. She is wonderfully expressive in the two slow movements of no.6 and demonstrates her virtuosity in the two Viste movements of the Fifth Sonata. Bass violist Baldomero Barciela also makes a winning solo contribution, notably in the meditative Grave and Gracieusement of no.6.
Violinist Alba Roca is Beyer's well-matched partner in the two-violin sonatas, especially in the Gay movements of no.3 and the Gravement's expressive dissonances in no.5. Barciela also takes the spotlight, for example, in the Viste of no.3. Changes are imaginatively rung in the continuo department between theorbo player Ronaldo Lopes, whose contribution establishes the atmosphere in the Lentement movements of nos.3 and 5, and harpsichordist Chiao-Pin Kuo. The most affective sonata, 'Le tombeau de Monsieur de Lully', is a sombre, expressive tribute to Rebel's deceased master; its opening melancholy Lentement reaches despair with its concluding reprise. The brilliant Chaconne of no.11 is dispatched with considerable aplomb.
These players are well served by the gently resonant church acoustic, and the clear recorded sound has an agreeable overall balance.
ROBIN STOWELL