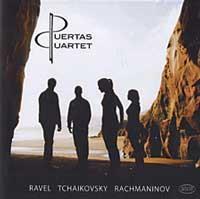 THE STRAD RECOMMENDS
The Strad Issue: January 2014
Description: Fresh, invigorating takes on stalwarts of the quartet repertoire
Musicians: Puertas Quartet
Composer: Ravel, Tchaikovsky, Rachmaninoff
The Puertas Quartet – formed by two married couples in London in 2009 – plays Ravel with a sense of enchantment. The musicians are good at caressing melody and hushed playing, and Ravel's constantly twinkling and shifting textures are beautifully executed. The third movement seems to reveal wonders, as if no one had been here before – following it, the fortissimo explosion that opens the finale is positively alarming.
The violinists share their roles. Ellie Fagg leads the Ravel, and Tom Norris takes over for the rest. He brings to Tchaikovsky's D major Quartet a powerful, vibrato-rich sound, just the thing for Romantic Russia. The Puertas's playing in the first movement is strong, pressing onwards, emphatic, and Norris plays his semiquaver scales in the development with steely accuracy. He brings beguiling grace and charm to the middle section of the famous slow movement. The scherzo moves restlessly forwards, with an urgency generated by its snappy asymmetrical accents, and the finale is played with great precision, its staccato accents dryly picked out, balanced by some gentle, engaging playing.
Rachmaninoff's Romance was the slow movement of an incomplete string quartet that he wrote when he was 16. It's an attractive work, a succession of flowing melodies with muted instruments, played simply but with nuanced lyricism. The recording is close and warm.
Sound clip: Rachmaninoff Romance
Tim Homfray