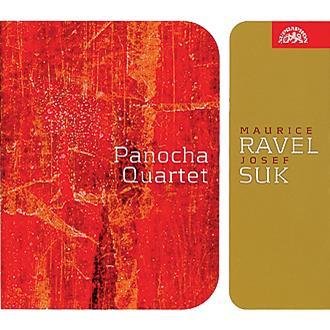 The Strad Issue: January 2007
Musicians: Panocha Quartet
Composer: Ravel, Suk
Many will want this for the Panocha's wonderfully relaxed, idiomatic playing of the Ravel (the stylish Assez vif and delicate inner-part solos in the Très lent surely make it a top choice); however, the two works by Josef Suk, Dvo?rák's son-in-law, are equally desirable.
By the time Suk wrote his op.11 quartet he had been playing second violin with the Czech (Bohemian) Quartet for four years. Yet he remained diffident about writing for string quartet, even though he had already composed a modest treasure trove of music for chamber ensemble, including an early quartet, piano trio and piano quintet, before penning this B flat major Quartet, aged 22, in 1896.
The Panocha brings out with easy assurance Suk's carefree motifs (not unduly beholden to folk music) and their careful development in the well-built Allegro, and nicely parodies the shy 'bravado' of the march-like Intermezzo: here the violins pair off brilliantly, fending off conspiratorial observations from violist Miroslav Sehnoutka. Suk's Adagio starts sombrely, but leader Ji?rí Panocha unveils an enticing melody midway. The brisk finale is delightful. Wisely, the Panocha reserves a spikier sound for Suk, offsetting the allure of its Ravel.
The disc appends Suk's fascinating 'alternative' ending to his quartet: a Beethoven-like 'variant finale' (dated 1915), in which he boldly veers towards Janá?cek's expressive language, some years before Janá?cek composed his own First Quartet (written for Suk's Bohemian Quartet). Meditation on an Old Czech Hymn (1914) is one of the loveliest string works in existence (compare Samuel Barber's Adagio), utterly mesmerising here. Supraphon's recording does ample justice to these superb, mature players.
Roderic Dunnett