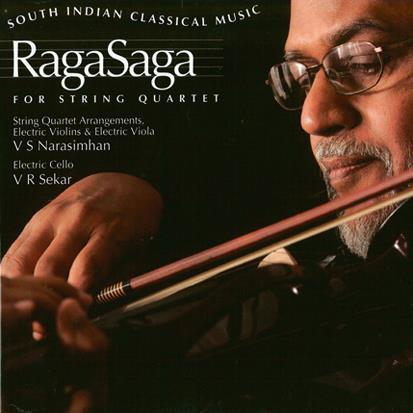 Musicians: V.S. Narasimhan (electric violins/electric viola) V.R. Sekar (electric cello)
Composer: Various
V.S. Narasimhan's musical experiences straddle the Western and Karnatak (South Indian) classical traditions, and his arrangements of the latter attempt to incorporate the former on this album.
Firstly, a potential disappointment should be made explicit: this is music for the (albeit electric) instruments of a string quartet, but the upper three parts are overdubbed by Narasimhan. It is probably better this way, since the inner parts are only used as building blocks of homophonic accompaniment and contain almost no individual interest for player or listener. Even Sekar's cello is restricted in expressive terms to all-too-brief melodic cameos that reflect an affinity with and grasp of the music, although they are slightly under-mixed on occasion.
All this is a vehicle for the violin's raga improvisations, monologues that capture the vocal, melismatic element of Karnatak music superbly well – the swooning ornamentation is crystal clear, effected by immaculate fingerboard slides and a mellow, mid-register electric timbre.
It is just a shame that there is no real engagement with the string-quartet format, especially since the arrangements deliberately seek to adopt some Western practices. As it stands, these are manifested in harmonic language that is often rather bald (although Gnaana mosagaraadha is charmingly dissonant); consequently, the melody-accompaniment strategy wears a little thin, since the underlying parts change chord regularly, rather than provide a less intrusive drone. But, if you're in it for the top line alone, this is beautiful music.
Chris Elcombe