Violinst trained in El Sistema, who has become familiar face of anti-government protests, was arrested three weeks ago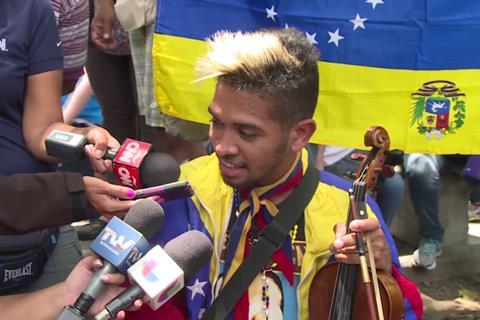 Wuilly Arteaga, a former El Sistema student who has become known worldwide for taking his violin on street demonstrations in the Venezuelan capital Caracas, was arrested and detained three weeks ago, attracting a number of petitions for his release.
Arteaga, who achieved international prominence when a video of him cradling his broken violin went viral in May, was released on Tuesday according to an announcement on Twitter by Tarek Saab, the country's prosecutor general. The release was made following a request from the Public Ministry of Venezuela and court approval, according to Saab's tweet.
Arteaga was injured in a protest at the end of July in clashes with police that turned violent. Alfredo Romero, director of Foro Penal, a pro bono legal assistance NGO which has been helping Arteaga, confirmed the release on social media and has claimed that the violinist was beaten in custody.
Photo from video dated May 2017